The traditional trifle is a festive, colorful and simple thing to make. A treat to your sweet tooth and you can surprise your guests with this beautiful dessert any day of the year.
Making a fruit trifle at home is extremely simple, yet the taste of the dessert made with the easy steps is mindblowing.
Here is the recipe to make fruit trifle at home: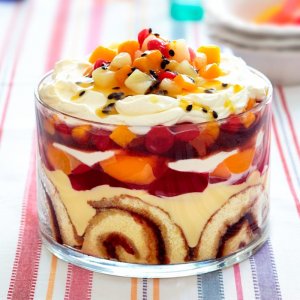 INGREDIENTS:
1 packet (80 g) red jelly
1 medium Swiss roll, sliced
65 ml (¼ C) sherry or fruit juice
1 x 410 g Fruit Cocktail in Syrup, drained
500 – 750 ml vanilla custard
1 x 115 g Granadilla Cup
375 ml whipped, sweetened cream
825 g Peach Slices in Syrup, drained
Steps to make Fruit Trifle:
Prepare the jelly as directed by the pack's instructions and put it in the refrigerator to set slightly, but not yet firm.
Arrange the Swiss roll slices and drizzle with sherry or fruit juice in a large bowl and coat with a thick layer of custard, followed by half of the jelly.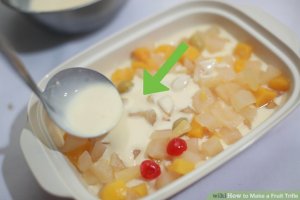 Place the Peach Slices on top of the jelly, cover with a thin layer of custard, followed by the remainder of the jelly and put in the refrigerator for about 4 hours.
Put the whipped cream on top when set, and arrange the Fruit Cocktail on top.
Drizzle with the Granadilla and serve.