Cheesy potato wedges are fantastic for lunch as a side dish, or a last-minute dish that you can bring to a BBQ. In as little as 12 minutes, these incredible cheesy potato wedges can be prepared. And they are delicious as well.
To make these Cheesy Potato Wedges, you probably already have the ingredients in your fridge and pantry.
Before you read any further, you need to know, these wedges are made in the microwave. You may hesitate to attempt to bake potatoes in the microwave, but trust us, it really works.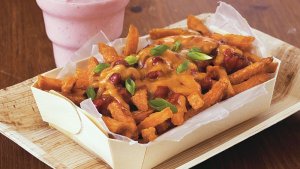 They might not be as crispy as fried potato wedges but are crispy enough, and they are a great-tasting side dish.
They are even tastier just because they literally take less than ten minutes to prepare from start to finish, and your whole house doesn't smell like deep-fried french fries. It's a win-win!
Since they are microwaved, cheesy potato wedges are healthier than fries. These wedges can also be readily baked. By microwaving them, they are not deep-fried in unhealthy oil.
On these cheesy potato wedges, we also keep the skin. The skin of the potato offers additional fiber and vitamins. Keep in mind that you save calories, fat intake, and salt when baking potatoes in the microwave or oven. When deep frying food, you increase the trans fats that can raise your LDL (bad cholesterol levels) and increase heart disease.
POTATO WEDGE TOPPINGS
Just by adding a few toppings to your cheesy potato wedges, you can have a whole new taste. The options are endless on what you can add to these easy and scrumptious potato wedges.
You can convert cheesy potato wedges into spicy wedges, crispy wedges, aromatic wedges, warm wedges, and loaded potato wedges just by adding a few ingredients.
Here are some of our favorite toppings to kick things up a notch:
Sliced green onions
Shredded cheddar cheese (or any flavor of cheese)
Ranch dressing
Ketchup
Fresh herbs (for flavor and nutrients)
Hot sauce
Sour cream
BBQ sauce
Potato Wedges in Microwave Recipe:
Ingredients:
Potato/Vegetable Brush – The handiest little gadget that will make your life easier.
Gallon Size Zippered Bags – The ideal bag to freeze or mix and marinate.
Microwave Safe Plate – These are fantastic to have on hand for long periods of time for microwave on high.
Method:
Scrub each potato until it has been cleaned and slice each potato into eight wedges lengthwise.
In a gallon-size resealable bag, add Parmesan cheese, garlic salt, and seasoning salt and shake to combine.
Add the wedges of potatoes to the bag and shake until covered evenly.
Set the potatoes on a big microwave-safe tray and cook for 4 minutes on high.
Rearrange the potatoes and turn them over and cook on high for another 4 minutes.
In a small bowl combine the melted butter and leftover Parmesan cheese mixture.
Sprinkle over the cooked potato wedges and serve.