Nothing is more addictive than cheese fries. We always make sure it tastes good when we eat something fried so we understand it's worth it!
Before a friend of mine told me about this recipe I used to try melting the Cheese in the Microwave but as soon as we started eating it the cheese was already firm and uncheesy. This nacho cheese stays nice and runny. Let's get started!
You can start off by peeling and cutting the potatoes into thin strips like so. Place them in deep oil at a high temperature until you begin to see golden color.
Ingredients:
French Fries:
3 Russet Potatoes
Oil for frying
1/2 teaspoon salt
Nacho Cheese Sauce
1 teaspoon pepper
1/2 teaspoon salt
1 teaspoon paprika
1/2 cup Italian cheese ( or mozzarella, or swiss cheese)
1/2 cup Mexican cheese mix (or yellow squares, or white squares)
1/2 cup milk
1/2 teaspoon corn starch
1 teaspoon chili powder (optional)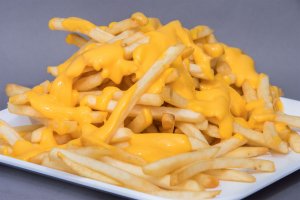 Instructions:
French Fries
Peel and cut the potatoes into 1/2 inch fries
Dry on a napkin to remove excess water
Place in boiling oil on high until golden
Remove from oil onto napkin or cooling rack
Sprinkle with salt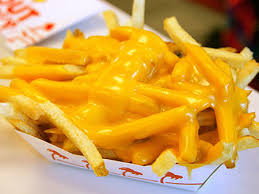 Nacho Cheese Sauce
Mix all the ingredients in a small saucepan
Boil over medium heat while constantly mixing for about 3 minutes until all the cheese is melted and blended well
Remove from heat and pour over hot fries