A magical cocktail party food was born when cream cheese and the happy hostess met. Yes, we are talking about Cheese Balls. Creamy, dreamy, and cheesy, this centerpiece of a cheese tray or standalone snack with crackers was the elegant update on dips.
The combination of the mildness of cream cheese and the sharpness of the grated cheddar, all amped up with a dash of Dijon and a splash of Worcestershire, made it oh so inviting.
Traditional cheese balls are a combination of cream cheese, semi-soft or semi-firm whipped soft cheese with a few added flavorings that are then molded into a ball about four inches in diameter and rolled into nuts.
With crackers, carrot sticks, and celery, they serve the same function as the crudité platters of cut veggies with a dip that have commanded parties since the early '80s.
What Cheese to Use for a Cheese Ball
Cream cheese is the classic foundation when it comes to the creamy element, and it works extremely well. As with any dish that contains a few ingredients, the quality of what you use becomes essential, so choose the finest cheese you can afford. You'll be stretching any pricey cheese or flavorings with inexpensive cream cheese, which helps keeps this dish both special and doable on most budgets.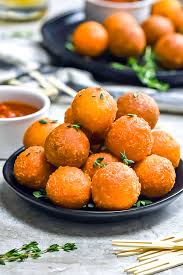 The single trick to getting a cheese ball to work well is that every ingredient must be at room temperature. Yes, must. Soft, warm cheeses become integrated into a single flavor, with a new texture and aroma that simply cannot occur if you start with cold ingredients. Set the cream cheese and cheeses out on the counter for about an hour before you start and you will be problem-free.
How To Make a Cheeseball
MAKES                                                        SERVES
1 (3 1/2- to 4-inch) cheese ball                      6 to 8
INGREDIENTS
For the cheese ball:
8 ounces cream cheese, at room temperature
8 ounces semi-soft or firm finely grated cheese, at room temperature
1 to 3 cloves garlic, 1/2 small shallot, or 1/4 small sweet onion, peeled and grated
2 tablespoons freshly squeezed lemon juice, Cognac, sherry, port wine, or whiskey
1 to 2 teaspoons Worcestershire sauce
1 to 3 tablespoons unsalted butter, at room temperature (if needed)
Optional add-ins:
1 tablespoon mustard
1/2 to 2 teaspoons hot sauce, harissa, chipotles in adobo sauce, or chutney
1 to 2 tablespoons minced fresh flat-leaf parsley leaves, chives, or dill
1/2 to 1 teaspoon minced fresh rosemary, sage, or thyme leaves
1 to 2 teaspoons spices, such as paprika, smoked paprika, or caraway seeds
2 tablespoons minced dried fruit (such as apricots, figs, dates, or cranberries)
2 tablespoons minced, dried sausages or firm, cured meats (such as pepperoni, salami, soppressata, saucisson, dried chorizo, or any cured charcuterie, any casings removed)
For the coating:
3/4 cup chopped roasted nuts, crackers, or pretzels; crushed chips or cereal; crumbled, cooked bacon or prosciutto; or chopped dried fruit
For serving:
Sturdy, cut vegetables such as bell peppers and cucumbers, thick crackers or pita chips, clusters of grapes, dried figs (cut open), and/or toast points
EQUIPMENT
Worksurface
Measuring cups and spoons
Food processor or handheld electric mixer
Soft silicone spatula
Plastic wrap
Aluminum foil
Rimmed sheet pan, roasting pan or casserole dish
Serving tray or platter
INSTRUCTIONS
Process the cream cheese. Place the cream cheese in the bowl of a food processor fitted with a metal blade. (Alternatively, use a handheld electric mixer and large bowl.) Process or beat until light and fluffy in texture, 30 seconds to 1 minute.
Mix in the second cheese. Add the grated cheese and process or beat for 30 to 45 seconds. It should be very smooth and completely combined. If it is not, process or mix another 30 seconds.
Mix in the liquid flavoring. Add the garlic, lemon juice or alcoholic spirit, and Worcestershire. Process or beat until the mixture is completely smooth, there no lumps or bits, and the mixture is thick and fluffy, one full minute or more. Stop the machine and scrape down the side of the bowl.
Mix in any optional ingredients. Add any combination of add-in flavorings and process or beat until the mixture reaches the desired texture.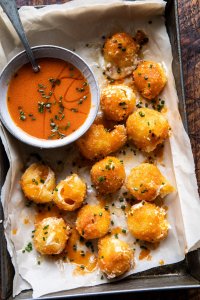 Correct the texture if necessary. If the mixture has become runny, like salad dressing or yogurt, add 1 tablespoon room-temperature butter at a time and process or beat until completely incorporated, fully processing or beating between each addition.
Scoop the mixture into a mound: Place a large piece of plastic wrap about 12 by 16 inches on a work surface. Using an ice cream scoop or a large spoon, transfer the mixture into a mound in the center of the plastic wrap.
Shape it into a ball using plastic wrap. Lift the plastic wrap on 2 opposite sides and cover the sides of the cheese blend. Place your cupped hands against the plastic wrap, and gently press the mixture into a round. Lift up the remaining plastic, one piece at a time, and cover all sides of the cheese round. Shape it into a ball. Collect all the plastic pieces at the top and twist them together, creating a bundle that looks like a tied sack or pouch.
Wrap in foil and refrigerate. Wrap the wrapped plastic cheese ball in aluminum foil and shape it with your fingers again. Refrigerate for at least 8 hours and up to 6 days.
Coat the outside. Before serving, pour the coating into a rimmed baking sheet, roasting pan, or 9×13-inch baking dish and spread into an even layer. Remove the cheese ball from the fridge and unwrap it entirely. Gently roll to coat, or using a spoon, scoop the coating over the top. Pat the sides and top well to ensure a full coating.
Serve the cheese ball. Place the cheese ball on a serving tray or platter, with a selection of sturdy, cut vegetables, thick crackers or pita chips, clusters of grapes, and a few dried figs (cut open). You can also opt for toast points, which are simply pieces of great-quality toast slices with the crust cut off. Set 2 or 3 tiny knives for spreading cheese or butter knives, plenty of napkins, and serve.