Coconut Chocolate Chip Cookies are deliciously dense and chewy cookies loaded with coconut and chocolate chips. For coconut enthusiasts, these are the PERFECT cookies!
I absolutely love baking with coconut. Whether that be with coconut oil or desiccated coconut, it can take any recipe to a whole new level. And that is exactly what it has done in today's recipe.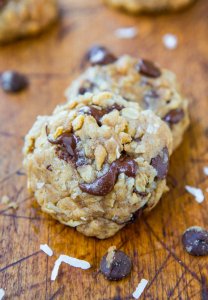 Today, I bring you these incredibly thick and delicious Coconut Chocolate Chip Cookies. These cookies are so full of incredible texture and are the most ideal cookies for all coconut enthusiasts!
INGREDIENTS FOR COCONUT CHOCOLATE CHIP COOKIES:
plain/all-purpose flour
chocolate chips
baking soda
unsalted butter
desiccated coconut
vanilla extract
cornflour/cornstarch
salt
light brown sugar
large egg
baking powder
caster/granulated sugar
This recipe requires two whole cups of coconut desiccated. This results in thick, chewy, flavourful cookies that have a wonderful texture. You're gonna LOVE them!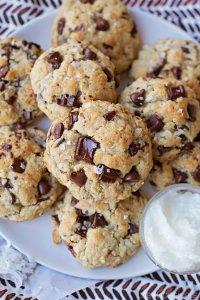 Simply whisk the dry ingredients together in one bowl to create these chocolate chip coconut cookies, then whisk the butter, sugars, egg, and vanilla together in another bowl. Fold in the dry ingredients, then fold in the coconut and chocolate chips.
Scoop up the dough into balls, and place on a baking tray lined with parchment paper. Bake for 10 – 12 minutes. Allow it to cool on the baking tray for 5 – 10 minutes before transferring to a wire rack to cool completely. Though eating a cookie warm from the oven is a must!