Dorian cast the sixth landfall on Saturday near Sambro Creek in Nova Scotia, Canada, at 7:15 p.m., ADT, as a post-tropical cyclone.
The impact started 15 miles south of Halifax, the capital city of Nova Scotia. The estimated sustained winds at landfall were 100 mph with the same strength as a Category 2 hurricane.
This landfall came nearly two weeks after Hurricane Dorian made its first landfall as a tropical storm on the island of St. Lucia in the Lesser Antilles on 27 Aug.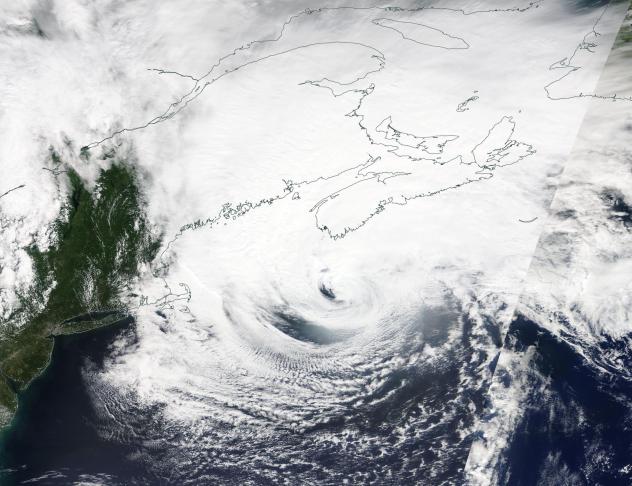 Dorian had spent major portion of its life-threatening and disastrous impact over the U.S. East Coast revealing its strength as a Category 3 to a Category 1 Hurricane. After staying as Category 1 hurricane creating impact for over 24 hours, Dorian's maximum sustained winds increased from 85 mph to 100 mph on Saturday afternoon, making it a Category 2 hurricane. Just before 6 p.m., ADT, the storm was already roaring as a post-tropical cyclone with sustained hurricane-strength winds, before approaching Nova Scotia.
While the storm was hovering over 100 miles offshore, people in Halifax, Nova Scotia, started to reveal significant damage to buildings. One report was of a roof torn off of a building and tossed into another. Around 3:30 p.m. ADT on Saturday, nearly 200,000 customers were without power, according to Nova Scotia Power. By 10:30 p.m. ADT on Saturday, that number had grown to around 375,000.
A crane has collapsed at the corner of South Park and Spring Garden. #Halifax

Please be safe.@globalhalifax #Dorian #HurricaneDorian #Dorian2019 pic.twitter.com/zkfOJI9cLA

— Graeme Benjamin (@GlobalGraeme) September 7, 2019
Pictures and videos on social media showed Dorian's disastrous winds bringing down a construction crane in Halifax, the provincial capital.
AccuWeather meteorologists are concerned about widespread tree damage and power outages to occur since the trees still have their leaves. When strong winds hit fully leafed trees, more strain will be applied on the trunk, causing the tree to fall more easily.