For a while now, Lady Gaga has been working hard on her sixth studio album. Now that she's riding A Star Is Born's wave and has successfully introduced her beauty line, Haus Laboratories, the pop super star is set to finish a new pop album.
In her Insta-story, Gaga shared a snap in what seems to be a recording studio. She has written on it the word "music."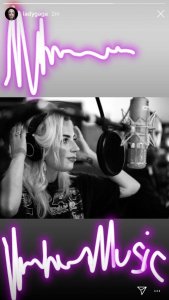 Gaga is reported to have collaborated on the new LP with some heavy musical hitters. Scottish producer Sophie confirmed that she was working with Gaga on music. Boys Noize, a German techno producer, could also have a hand in the project.
"She's down [with] techno. What's crazy, too, is she got into modular stuff now," he said. "I brought my modular system and she spilled water on it right away, but it kind of broke the ice I guess and we wrote a f—ing hit I think! Now she's into modular, she bought a system, and I went back to Berlin and came back and she had a new system and we used that on some of the songs."
Some of the music magic of Boys Noize has been used in Gaga's Enigma show. We know LG tapped producer BloodPop, Burns, Mark Ronson, Diplo and "Shallow" co-writer Anthony Rossomando as well.