Pizza Fries appears to be the nation's new favorite food, the two killer food items coupled to invent a complete food orgasm involving a bunch of cheese. Although it's not a totally new introduction to food in the country but it's trending and a lot of local eateries have introduced pizza fries on the menu.
Here's the secret recipe of the mouth-watering treat that you can easily make at home.
Ingredients (SERVES 10 PEOPLE)
Chicken, cooked shredded 1 kg
Knorr Professional Barbecue Sauce (12x900g) 400 ml
Cumin, powder 3 g
French fries 2 kg
Knorr Professional Chicken Stock Powder (6x1kg) 10 g
Capsicum, dice 100 g
Black olives, sliced 100 g
Mushroom, sliced 100 g
Cheddar cheese, grated 100 g
Mozzarella cheese, grated 100 g
To Serve:
Parsley chopped, for garnishing 5 g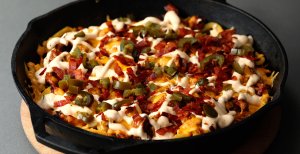 Preparation:
Coat the chicken with half of the Knorr Barbecue Sauce and season with cumin powder.
Fry the fries in deep-fryer until cooked. Remove from the fryer, season with Knorr Chicken Stock Powder then transfer into the oven tray/plate topped with chicken, capsicum, mushrooms, olives, and cheese.
Bake for 5 minutes or until cheese is melted or golden brown.
To Serve:
Either top with Best Foods Real Mayonnaise, or serve as a dip on the side.