Easy Strawberry Cake is an excellent dessert to create for holidays and festivities. Made with fresh strawberries from scratch and a to die for frosting strawberry cream cheese!
One of the most sought-after desserts is Strawberry Cake, and this is the first time I've created one from scratch. I adapted a Southern Living recipe slightly and it certainly gained a place up front in my recipe box!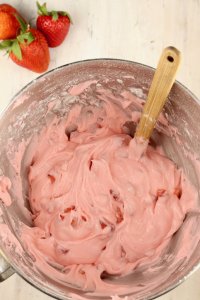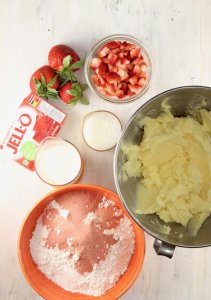 How to Make a Strawberry Cake:
Cream softened butter and sugar together in a mixing bowl. Beat in eggs, lemon juice, and vanilla.
In a separate bowl, combine flour, Jello powder, baking soda, and salt.
Combine milk and buttermilk.
Alternate adding flour mixture and milk beginning and ending with flour mixture until well combined.
Fold in strawberries.
Pour into a well-greased cake pan. Bake at 350° for about 25 minutes.
Allow it to cool completely before frosting.
How to Make a Strawberry Cream Cheese Frosting:
Mix softened cream cheese with powdered sugar and Jello powder until smooth and creamy.
Add lemon juice, mixing until combined. Add in milk and beat until completely smooth.
Fold in strawberries. Spread over cooled cake.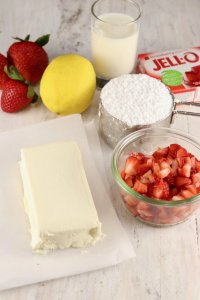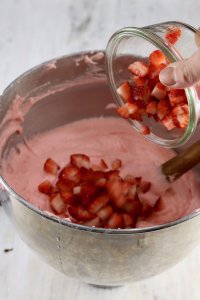 Some Extra Tips:
Wash strawberries and allow to dry on paper towels until completely dry.
Once you dice strawberries, scatter them over dry paper towels and blot them gently to remove excess moisture.
Strawberries can make your icing runny and taking the extra step to dry them will help keep your icing thick.
The strawberry cream cheese icing should be refrigerated. This strawberry cake can be served as soon as you frost it or refrigerate for 4 hours for a chilled cake and the icing will actually set up and be more firm.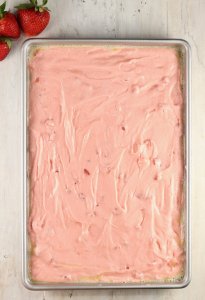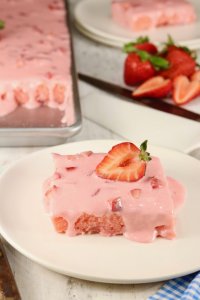 Cover the leftover cake with plastic wrap or foil and it will keep in the refrigerator up to 3 days. After that, the fresh strawberries start to get a little soft.
This Strawberry Cake is perfect for any festive occasion and a favorite for summer cookouts etc. Easy to prepare ahead and loved by everyone.