Recently, Mohsin Abbas Haider's ex-wife Fatema Sohail signed for Khula. Now, he is back again in the controversy world as some pictures with his alleged girlfriend Nazish Jahangir got leaked recently.
Last we heard about the case was when matters were taken to court and some of Fatima's allegations on Mohsin were confirmed while others were denied. Mohsin even took on to his social media to post a 'celebratory' video.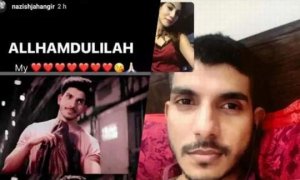 Considering that none of them seemed happy with each other, and with all the media attention the drama between them only got worse, it seemed like the best choice they could have made.
Recently, however, a controversial picture has been circulating on social media. In the picture, Mohsin can be seen video calling in his nightclothes with Nazish Jehangir.
Nazi is also the alleged girlfriend of Mohsin, and rumors that they legitimized their relationship by getting married also went viral not too long ago. Both Mohsin and Nazis had previously rejected any rumors of their relationship.