On July 4th and 5th of July, two intense Quakes of magnitude 6.4 and a magnitude 7.1, respectively, trembled Southern California, causing a state of emergency. After earthquakes, NASA developed a new "tie-dye" map to observe the damage caused by natural disasters, and it seems very chaotic.
At NASA's Jet Propulsion Laboratory (JPL) in Pasadena, California, the Advanced Rapid Imaging and Analysis (ARIA) team used synthetic aperture radar (SAR) data from the ALOS-2 satellite to generate a map that highlights surface displacement caused by the earthquakes.
This image below was obtained on July 8 and compared with April 8, 2018 data from the same zone in California.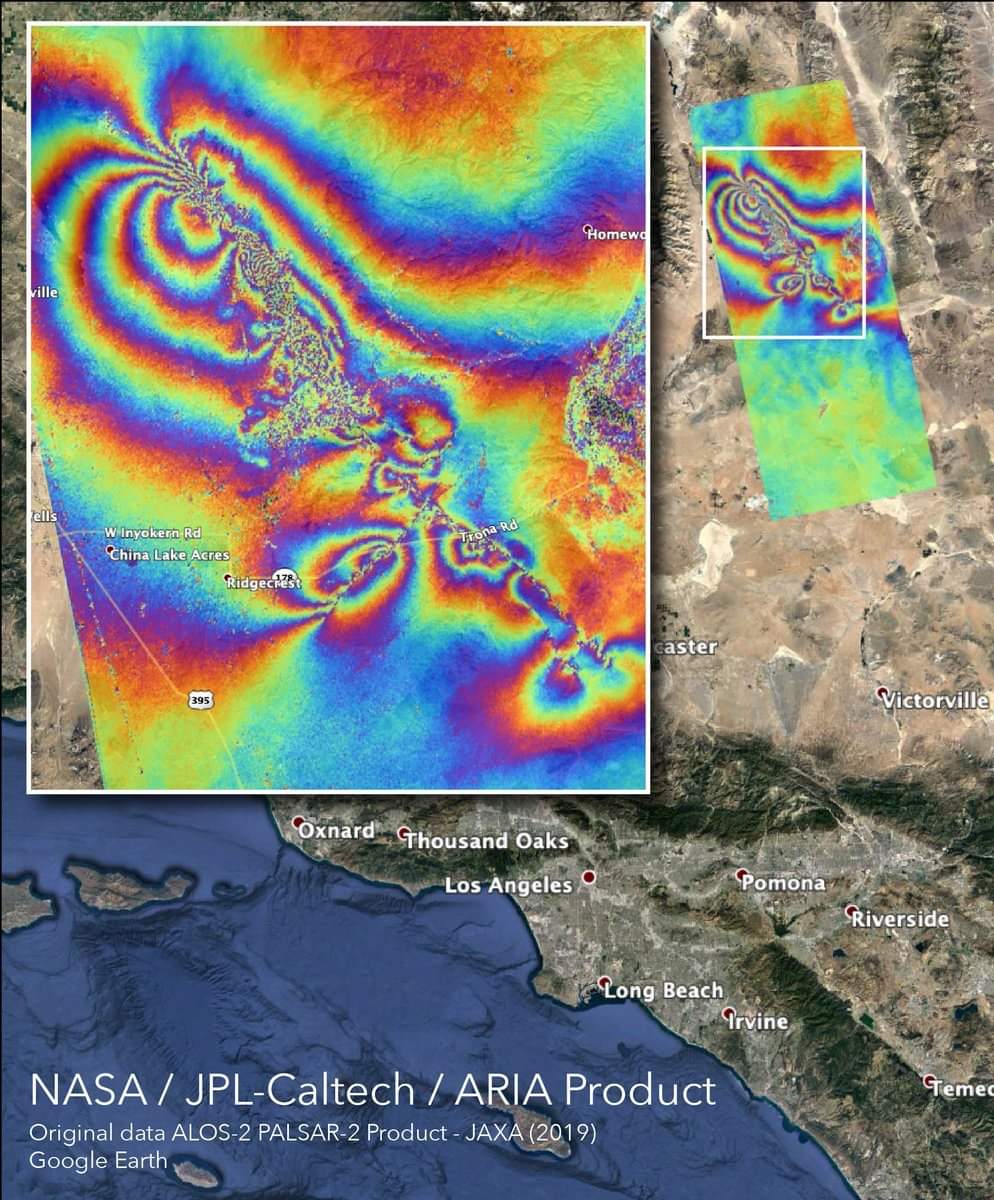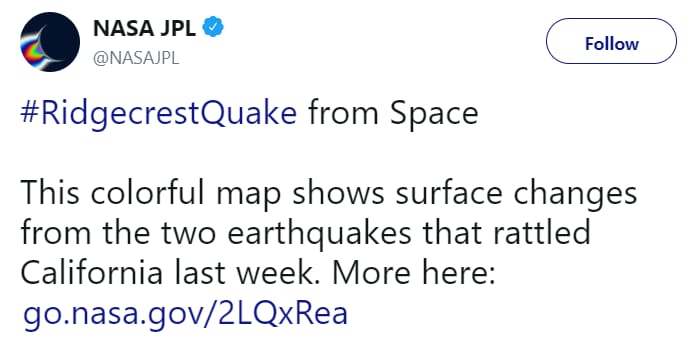 Here's how to decode the "tie-dye" chaos in the ARIA map. Each hue cycle represents 4.8 inches of ground displacement either towards or away from the satellite. Linear features that slice the chromatic fringes in the southeast zone indicate likely locations of surface ruptures caused by the earthquakes, while the "noisy" data in the northwest indicate locations where the ground surface was disturbed by these turbulences. The image frames an area of 31 by 78 miles, and each pixel maps roughly 98 yards across.
Fissures appeared in the ground in Ridgecrest, California, after two earthquakes on July 4th and 5th quaked the area and caused "surface ruptures" and cracks in roads, according to the US Geological Survey (USGS).
After the July 5 earthquake, the United States Geological Survey (USGS) reported over 5000 aftershocks in the region. According to NASA, federal and state scientists and experts belongs to the California Geological Survey and the USGS, are tapping this surface deformation map to study damages and map the faults caused by earthquakes and aftershocks.
Earth Science Disasters Program by NASA is working in collaboration with the California Earthquake Clearinghouse, which is working on response efforts with the California Air National Guards, the Federal Emergency Management Agency, and the USGS, to better prepared for natural disasters. Analysts from NASA are observing satellite data to create visualizations of potential landslides and land deformation occurred after quakes and making them accessible to concerned response agencies.