UK Hitmaker, the 'Thinking Out Loud' sensation Ed Sheeran just announced his upcoming new single on his Instagram. The song titled "Cross Me" will also feature two other artists whose names are kept as a secret for now. Ed crossed out the two names of the other singers who will be joining him on his new song. "Can you guess who's on the next one? x," he captioned the photo.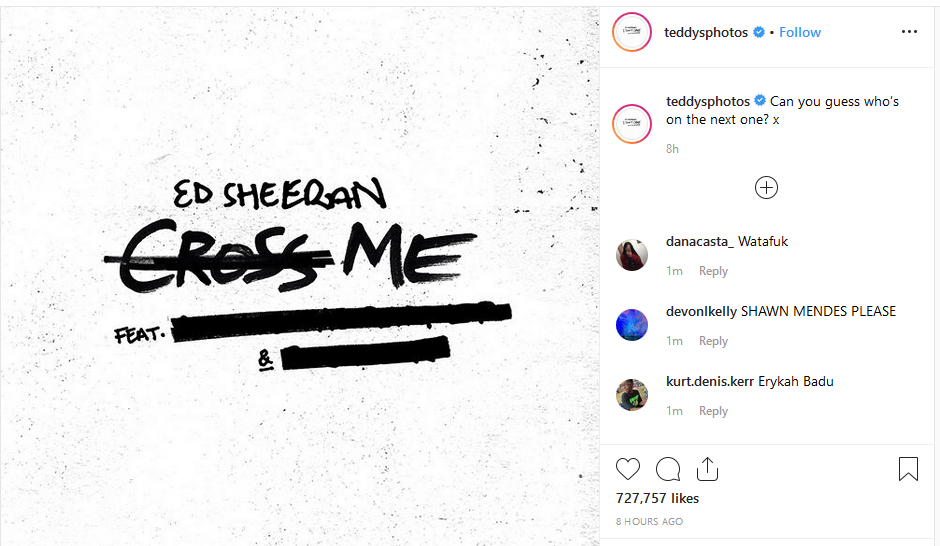 As soon as he posted the picture, fans started naming their favorite singers whom they want Ed to collaborate with.
Sheeran recently released his song "I Don't Care", his first collaboration with Pop icon Justin Bieber on 10th May 2019. The song was previewed first on Ed's Instagram account five days before the actual release. It was a huge success on charts and debuted at #1 in the UK on the Official Songs Chart, giving Ed his fifth #1 hit in the UK. Also, it debuted at #2 on the Billboard Hot 100 chart in the US.
The song 'I Don't Care' has broken the record of most global digital streams in 24 hours on Spotify with 10.977 million streams. This record was previously held by the songbird supreme Mariah Carey's hit "All I Want For Christmas Is You" with 10.819 million streams in 24 hours.
If that wasn't enough to get fans excited, the "Perfect" singer revealed on his Instagram Story that he will be releasing "more new stuff" coming Friday (May 24) and we cannot wait to see what he has in store!