With the upcoming Galaxy Fold postponed until September (three months from its initial launch date), those looking for a large-screen phone may instead look at the premium Samsung Galaxy Note 10. Not only is it a fairly simple phone with no known screen problems, but it is also anticipated to be released shortly as well.
Samsung confirmed that Note 10 will be launched on Aug. 7, and the event will take place at the Brooklyn Barclays Center. The phone itself serves as Note 9's successor.
Samsung has a few premium devices under its belt (for instance, if and when the Fold is eventually released, it plans to charge $2,000), but Galaxy Note devices stand out as part of Samsung's ultra-luxury line. The first Galaxy Note launched in 2011 and generally the handsets are equipped with an expansive screen, an integrated intelligent stylus called an S Pen and top of the line hardware. In brief, the Note is the best-of-the-best of Samsung.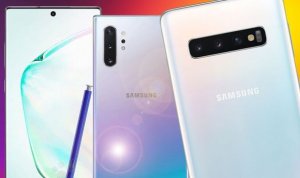 It's no wonder that there was plenty of anticipation and curiosity around the phone for that reason. Could it have 5G connectivity like the Galaxy S10  5G, or will it feature a Galaxy A80-like selfie camera? Maybe Note 10 will be one of Samsung's two foldable devices, saying it will release after the Galaxy Fold.
As stated earlier, Samsung verified the release of Note 10 in on Aug. 7 in New York. But you can already put your name down and reserve the phone before the event kicks off. Although it does not specifically mention a name, there is already a website to reserve "the next Galaxy," and you can also pick your carrier.
SamMobile leaked an alleged picture of a Samsung headphone dongle and further corroborates the rumor that there will be no headphone jack on Note 10. This occurs after another picture of Note 10 published by German tech magazine WinFuture showing the phone without the audio port. If the rumors are true, this would be a major shift in design, as Galaxy phones are among the few premium phones that still include the popular 3.5 mm audio port.
In May, Android Police also noted that Samsung could leave the headphone jack on Samsung Galaxy Note 10, quoting a source "familiar with the company's plans." The outlet also revealed that Samsung could substitute volume and power physical buttons with pressure-sensitive edges, comparable to the Pixel 3 and HTC U11.