In a voting session conducted today, for a no-confidence vote against Chairman Senate Sadiq Sanjrani and Deputy Chairman Saleem Mandviwala, the opposition's plan failed badly and left them devastated. With claims of having a clear majority to rule out the sitting Chairman, the result turned out against them and Sanjrani survived the movement.
Out of the anticipated 53 votes in favor of the movement, the opposition fell short of 3 votes. 100 votes were cast in total, out of which 50 were in favor of the movement and 45 were against the movement, while 5 votes were rejected. The ruling party apparently did not have a leading number before the voting with only 36 votes in hand, but the result showed that 9 senators played false with the opposition and that turned out to be the game-changer.
Later the voting, the opposition clan seemed clueless regarding the situation, as the numbers which assured their victory betrayed them on the ground. President of PML-N Shehbaz Sharif and Chairman PPP Bilawal Bhutto Zardari held a joint press conference in which they maligned the government.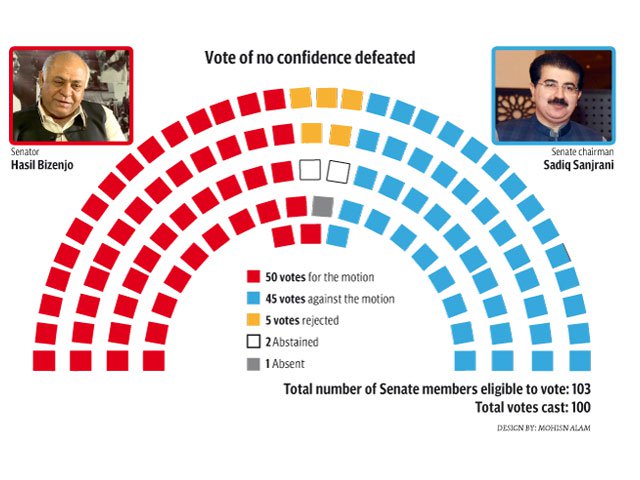 Bilawal said, "We will look into our party to see which of our members came under pressure or sold their conscience. Some petty senators stabbed their parties in the back, we will take them to the task,".
Despite the strong movement, Sanjrani was assured of the government's support and he did not resign from his office besides much pressure. A few days ago, the government initiated dialogues with the founder of this movement Maulana Fazl-ur-Rehman. Leader of the House in Senate Senator Shibli Faraz along with Chief Minster Baluchistan Jam Kamal Alyani met Maulana to request him to withdraw the resolution against the sitting Chairman. While Faraz said to extend the dialogues with other senators as well, Maulana responded with a quite diplomatic statement and did not deny to the requisition made. "Let's see what happens next," he said. His statement at that crucial time was very important, as he hinted to revoke his own campaign by the critics.