Chairman of the Pakistan People's Party (PPP), Bilawal Bhutto Zardari, announced that he would hold a rally in Karachi on October 18.
Talking to a public meeting in Larkana in connection with the PS-11 by-election, the PPP leader said that the party would hold a public rally in Karachi on 18 October against the incumbent government's inflation and worst economic policies
He said that during their rule, the PPP government introduced the Benazir Income Support Program (BISP) and raised the pension by 100%. "During our term, we also faced economic crisis, but PPP and then President Asif Zardari did not put the strain on the people and brilliantly worked out the situation," he added.
Bilawal reiterated that no conspiracy against the province will be accepted by PPP. "PPP will not allow Center to seize Sindh province's capital," he said, chanting 'Marsoon Marsoon Sindh Na Daisoon' slogans.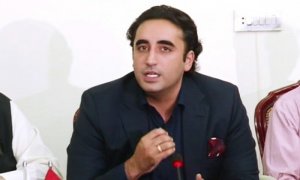 Bilawal said the 'selected' government of 'puppets' is responsible for mass economic murder. He said that small traders and farmers are being financially assassinated and masses are drowning in a price hike tsunami.
He continued to say that the country's Prime Minister Imran Khan had promised employment. He said the prime minister had promised to build five million homes, not even one of which has been built up to now. "The poor's shops and homes were demolished in the name of the policy. Where have all his words gone?" He inquired.
Speaking on an anti-government march organized by Jamiat Ulema-e-Islam Fazl, the chairman of the PPP said he was providing the JUI-F leader political and moral support.
Bhutto's family scion claimed he was fighting the "selected" and "puppet" government, while asking the people to support him in his fight against the current leadership of the "bloodsucking." He said the PTI government would not be able to give people relief as they suck the poor's blood.