According to SSP West Shoukat Ali Khatain, as many as 33 impounded customs bottles of imported liquor were retrieved from two Customs Warehouse security guards while traveling in an auto-rickshaw.
In a statement, the SSP West said these 83 bottles were earlier reportedly impounded by the Customs.
He said two security guards of Customs Warehouse namely Muhammad Younis son of Saadullah Khan and Khalid Khan son of Rasheed Khan had been arrested.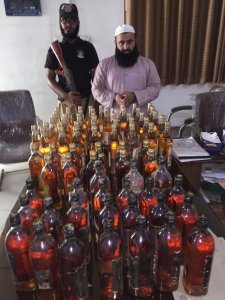 The two arrested accused disclosed during the initial investigation that they in connivance with others namely Momin Khan, Shairwali, Ghulam, Habib, Sohail Ahmed, and Faisal stole the bottles of liquor from a Warehouse of Customs and sold out the same in Kemari, Clifton and Defence area.
One of the arrested suspects, Younus, used a rickshaw for delivering liquor bottles to clients while his aide Khalid used to broker the deals between the gang and the clients.
SSP West said that Younus works as a watchman in the customs warehouse while Khalid is also an employee and lives in a flat provided by the department.
He added that raids are being conducted to arrest six other members of the gang namely Momin Khan, Sher Wali, Ghulam, Habib, Sohail and Faisal, all customs employees, involved in the crime.
A case has been registered against the accused and raids are being carried out to arrest the other six accused.