In a Masjid of Madrassah blast today at Killi Muhammad Qasim Khan close to Kuchlak, 25 km from the provincial capital, at least four people were martyred and 22 others got injured.
Police sources indicated that on Friday when the explosion happened in Killi Qasim Khan Wazirabad, people were offering prayers, the blast left four people martyred and twenty-two injured on the spot.
The spokesperson of the Provincial Civil Hospital said that the rescue team brought to hospital four dead bodies of martyred and 22 wounded people, where treatments for the wounded victims were started.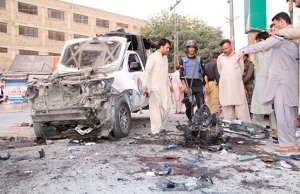 He said, despite an emergency was also imposed in hospitals on the instructions of Chief Minister Baluchistan to guarantee that the injured victims received all therapy services.
He said three martyrs were identified as Hamdullah, Muhammad Khan, Reheem Gull, and one other identity could not be ascertained so far.
The spokesperson of the hospital mentioned the names of the people who were injured including  Agha Muhammad, Siddiq, Izatullah, Haji Murad, Muhammad Qasim, Haji Nida, Haji Akbar, Abdul Jabbar, Abdul Hakeem, Abdul Rehman, Izatullah, Haytullah, Abdul Hayan, Reheemuddin, Sarwar, Sarwar Ghulam, Anyatullah, and one of the injured identity could not be ascertained.
Six of them were reported to have suffered severe injuries. Security forces, including police, the Levies force, the Frontier Corps and the Bomb Deployment Squad team, cordoned the area and began investigations into the nature of the explosion. Further research has been initiated.