If your subconscious is triggering you to go on a solo or bachelor trip and at the same time you want to add too many things to your "30 before 30" bucket list while facing your fears whether it's a height or deep-sea then it's a right time to step out of your comfort zone and get rid of a routine. Let's make a backpack, grab your passport and do it now.
But wait a minute. Is your budget bothering you? Are you already feeling anxious after thinking about Visa rejection? Are you thinking about going to multiple countries to make your bucket list lengthy? What if I tell you that budget is no longer a big fish in this pool, your visa process will be done easily by yourself and you will face no rejection (If required documents are complete). Moreover, you can go skydiving, scuba diving, bungee jump, zip line, Elephant safari, parasailing, snorkeling, rafting and much more, all in one place? Land of smiles – Thailand is always welcoming.
The peak tourism season in Thailand is from November to April. But at that time the Airfares, hotel fares and price of local travel tours are too high and beaches of Krabi and Phuket will be full of people. So if you are a budget traveler and a backpacker the best time for you, is the alternate duration that is from June to August. You can have moderate to heavy but short-lived rainfalls during this season but that too is one of the attracting stuff for Pakistanis as we are not going there for tanning and sunbath and you'll be rewarded with cheaper flights and lower hotel rates.
You can have your visa done easily.
No need to consult a travel agent and waste extra money.
Visit the site: https://www.thaiembassy.com/thailand/thailand-tourist-visa.php. This is all that you need.
Another traveling hack I want to share with you is that being a budget traveler; don't rush for a direct flight to Bangkok. Choose SriLankan Airlines with a transit of 6 to 12 hours in Colombo and you can have your airfare done within 60,000 PKR. If you are an adventure traveler then Bangkok is not the attractive spot for you it's more likely a business hub of Thailand with heavy traffic like Karachi. Book your 1-hour domestic flight to Phuket without wasting time in Bangkok. You can choose between a variety of airlines including AirAsia, Nok Air, and Lion Air. Domestic flights in this season are very budget-friendly and you can have your flight done in 5000 to 6000 PKR.
Bangkok has two airports: Suvarnabhumi Airport (BKK) which is an international terminal and Don Muang Airport (DMK) which is for domestic flights and international as well. The distance between Suvarnabhumi Airport (BKK) and Don Muang Airport (DMK) is 29.5 miles (47.5 km). The free shuttle that runs to and from BKK and DMK has a transfer time of anywhere from 50 minutes to two hours depending on the time of day and traffic. So keep this fact in your mind before having your domestic flight done and must hold a margin of at least 6 to 7 hours between both flights. Save your money and don't go for a taxi for intercity transfer, you can use free shuttle service from BKK to DMK and vice versa as mentioned earlier by just showing your tickets for a next flight.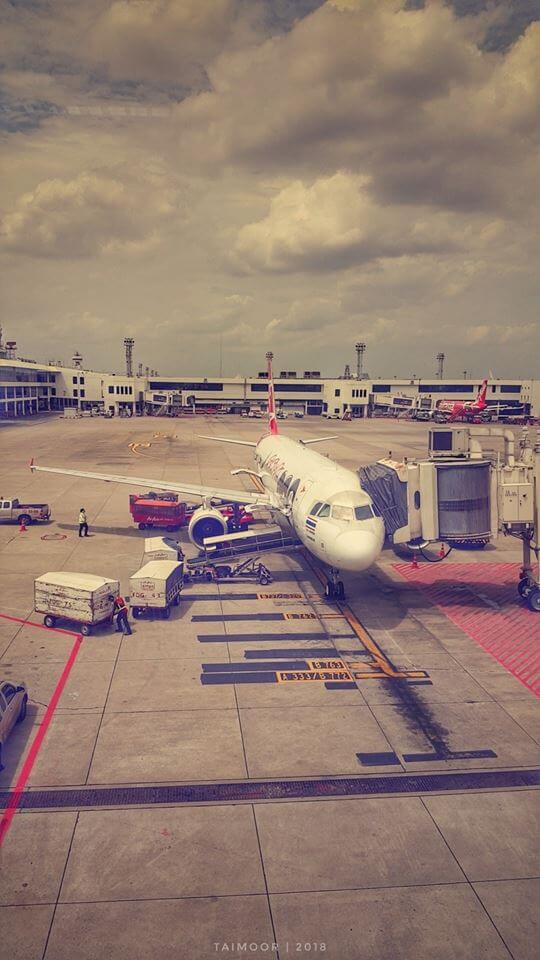 Upon reaching Phuket International Airport, you have to book a taxi for your hotel transfer. But don't follow this practice for daily city tours. You can see Bike Renters everywhere and you can rent a sound 125cc or 150cc bike/scooter against 200 to 250 Baht per day. You must have to submit your passport with rent amount. Don't forget to take pictures of a bike before leaving the rent station. These private renters are not trustworthy. On returning a bike, you can be a victim of a scam. They would claim you for damage that has already been done before you rented it. And just in case if you actually damage a bike then don't drag it to the center. First, bring it to any nearest mechanic and fix it properly as it was before a damage, else wise the renter will accuse you of all other issues and problems that were already there before a damage and call his own mechanic (who would possibly his own agent) and would ask for a high penalty amount while threatening you of police and not returning your passport. So stay safe and be aware of scams.
If you are staying in Patong (which is very usual and highly recommended for you if you want to enjoy nightlife) you can see different tour companies around every street corner. Search for those offering best prices in town and book your tours to islands among which Phi-Phi Islands, James Bond Island, Coral Island are top of the line. All tour companies provide pick and drop from the hotel and provide a very good buffet and HALAL lunch. Phi-Phi tour includes speed boat transfer, snorkeling; James Bond Tour offers you kayaking and cave tours and Coral island offers snorkeling, parasailing, deep-sea walk, and Jet Ski. You have to rent Jet Ski by submitting your passport or 1000 to 2000 baht as it's not included in a package and doesn't forget to apply that bike rent science in this case too. Scammers are everywhere. You can also book your tours for Zip Line, Whitewater Rafting, ATV and Elephant Safari (All in one package).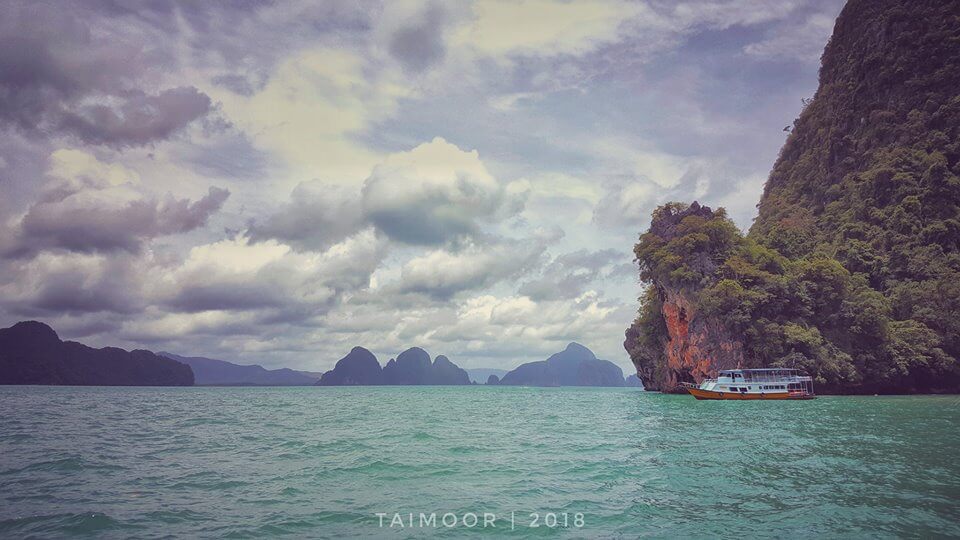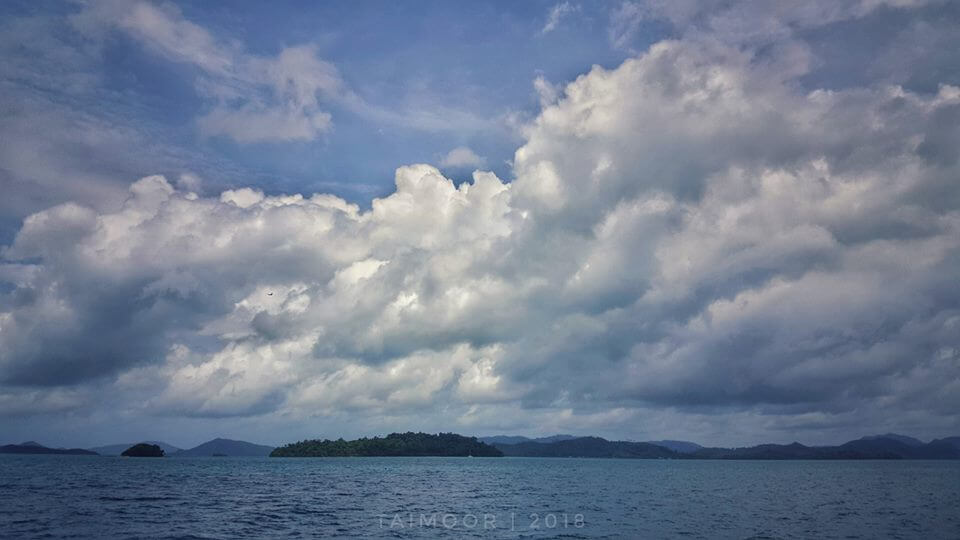 If you are willing to Bungee from a height of 50m then Phuket is for you. Jungle Bungee Jump in Phuket is one the best professional team in town. Don't settle for cheap adventure sports as it can cost you a life. Australian and New Zealand based owners of Jungle Bungee Jump run it strictly with safety standards according to New Zealand Bungee Standards. All information is available here: http://www.phuketbungy.com/
You can find many Desi and Indian Restaurants in Phuket but Halal food in Thailand is very expensive and you will be lucky only if you'll be able to get a good taste. Another budget hack is to don't buy Naan or Roti which costs around 30 Baht per piece and serving size is too small even 4 of them are not enough to satisfy your hungry stomach. Go for Rice which costs you around 150 to 200 Baht per serving and serving size is more than a need. Don't ever try to eat Thai food if you had not tried it before. It's not like mainstream Chinese food. Cooked in coconut/fish oil and without spices, it's an item not for us. Don't waste your money, time and energy in search of a good taste. Ali Indian Restaurant at Srisunthon Road, Bang Tao Beach is a place which can bring you back to Pakistan.
I consider Thailand to be one of the safest destinations for travelers and a thrilling experience for adventure lovers. While you still need to be aware of your surroundings, petty theft and tourist scams are usually the biggest things you need to watch out for. But it's a must-go once place for all of us. Whether it's a solo trip, bachelor trip or a honeymoon trip. Land of Smiles for a reason.
PS: Don't forget to buy a raincoat and waterproof mobile pouch from any local street shop. I water damaged my one Note 5 and one Galaxy S6 Plus in 2018.
If you want to enjoy videos and stories from my trip. Visit my Instagram and Facebook profiles. Links are available in my Bio, below.
Read More: A Travel Guide to Fairy Meadows and Nanga Parbat Basecamp