Hours after the announcement of Australia's Squad for Cricket World Cup 2019, we have the latest from the Indian dugout is the news for which the whole global fan base was eagerly waiting. BCCI has announced the World Cup Squad for Cricket World Cup – England and Wales 2019.
Virat Kohli (Captain)
Shikhar Dhawan
Rohit Sharma
KL Rahul
MS Dhoni
Dinesh Karthik
Hardik Pandya
Kedar Jhadav
Ravindra Jadega
Vijay Shankar
Kuldeep Yadav
Yuzvendra Chahal
Mohammed Shami
Jasprit Bumrah
Bhuvneshwar Kumar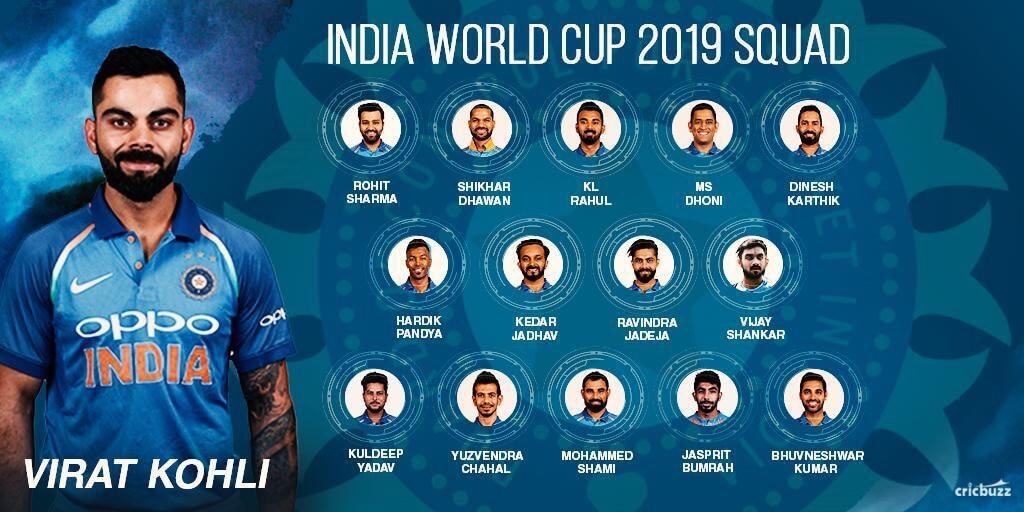 Rishat Punt has been dropped and rightfully so, his position is filled on with merit by MS Dhoni and Dinesh Karthik, both are experienced and has been proven a great asset for the side on numerous times.
Bowling line is a lot more stable and has excellent variety with Shami and Bhuvi attacking and Bumrah (#1 Bowler in the World Cricket) coming in the middle over showing his excellency. Yadav and Chahal can dismantle the opponents with their spin varieties and accurate line.
Cricket World Cup Fixtures and Venues
Batting line up needs no introduction or explanation on selection. Batting picks were expected lead by King Kohli, Hardik Panya's strong finishing skills will be tested in the World Cup and he has full potential to be the game changer.
Fans are excited to see some great cricket from this side.
What do you think about India's Cricket World Cup Squad, let us know in the comments section below?