Taking care of all expenses through a 5 to 8 job isn't always easy. Sometimes, we have to compromise with our desires to put things in place. Sometimes, we hardly achieve the target we set for future savings. That's the exact moment when we think of having an extra source of income. Isn't it?
Well, you still have the chance to get extra earnings by joining Designhill's affiliate program.
Designhill, one of the world's leading freelance graphic design platforms, introduces its affiliate program to help you earn extra money. No matter where in the world you are from, you can make a pretty income without putting in additional efforts!
You can earn a direct 30% commission in cash by sharing a trackable link. This link is related to Designhill's Logo Maker service. Share this link with people who are in search of cool logo design services for their brands, business, shop or anything. Once they come to our website through your link and purchase our service, we'll give you 30% of the total sale in cash instantly.
Not only this, but we also give a flat 15% OFF to those who purchase our service through your link. A two-way benefit for both of you!
Don't worry about any fees or charges. Designhill's affiliate program is FREE to join. Anybody can participate in it. What all you need to do is to register yourself for it. Once you have signed up, start promoting Designhill's logo maker service.
You can promote it through emails, blogs, videos, social networking sites or any other means. But make sure to include our trackable link into your promotions. Once, people click this link, sign up for our logo maker service and make a purchase, you earn 30% referral money. This money is sent into your account automatically.
How much is it possible to earn from Designhill's affiliate program?
Well, the answer depends on your competency! There is no limit much money you can make through Designhill's affiliate program. Refer as many people as you can and earn as much money as you can! There is absolutely no capping or limitation.
What will the referee get?
The referees will get a flat 15% OFF on their total project value if they get a logo designed through Designhill's logo maker.
Highlights of Designhill's affiliate program
High-converting ads

Frequent offers & promotions

Real-time sales reporting

Joining is absolutely free

Increase your earnings by taking part in Rewards & Challenges
How to become a Designhill affiliate?
Register yourself first and get a trackable link

Share the trackable link via social media, blog, video or email to your family and friends

Earn 30% reward in cash for every single sale made through your referral
Expected Earnings—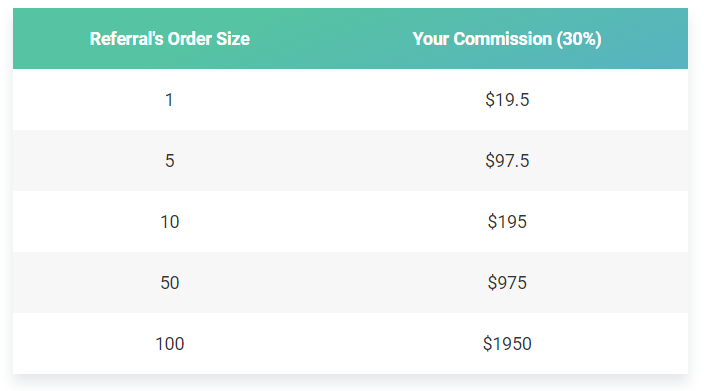 Please keep in mind that the above calculation is based on Logo Maker's Premium Package ($65).

You can increase your earnings by participating in various challenges.
Cookie duration
No, we aren't talking about chocolate cookies or something like that. We are talking about Designhill's affiliate cookies.
Here, the cookies last for 90 days that means you will be paid every time your referee makes a purchase. You know what, every time the users click on the trackable link, it starts from the beginning. This will increase your chances of earning per click.
Isn't it so simple to earn some extra cash? So, don't wait and be a referrer today! Trust us; it's the best way to earn more and save more!