Since Apple Company launched their iPad product, a lot of people have bought it. It is certainly one amazing device, and honestly, it seems to be still one of the most useful devices of our time. A lot of things can be done with it; browse the web, check and send e-mails, watch movies, and many other uses.
One way to really enjoy the Apple iPad is to use it in its fullest capability by downloading the right apps for you. With the thousands of apps that are available, you can find something there to fit every taste and need. But if you're the type of person who enjoys reading books or checking the media, that may just become the main use for your iPad.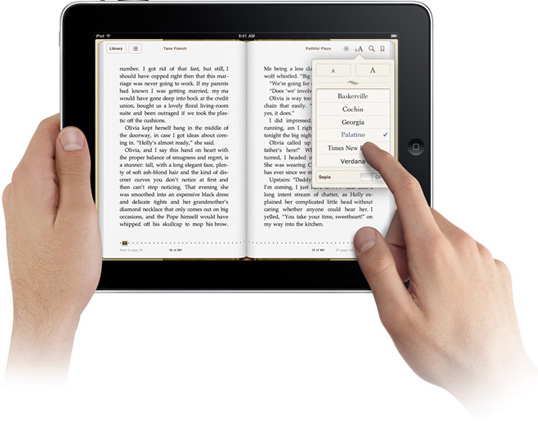 You might think that Apple iPad is not good enough to be an ebook reader since it wasn't really made to be that way. It wasn't made to focus only on reading electronic books or magazines. It was made to be different than any other devices. There can actually be a lot of things that you can do with an Apple iPad.
Even though that Apple iPad was not only designed to be for reading, a lot of e-book readers have preferred buying this device. Other e-book reading devices like Nook, Kindle, and even the Sony's eReader cannot even be compared to the level of Apple iPad.
Apple iPad is one great device for reading e-books, and it's even better with its lots of other features. And other eReader devices only allow downloading their ebooks from their respective companies. While in Apple iPad, you can purchase the e-books from other sources.
You can also find other sites to download your e-books, and the store from where you will be downloading or purchasing it from wouldn't matter at all because Apple iPad does not require to be buying the books from Apple.
With that in mind, you don't need to subscribe to newspaper deliveries anymore, or worry about making additional storage space in your house because of the stacks of newspapers that you keep. With a single iPad and Internet connection, you can download as many newspapers as you want, many books, comics, or novels.
You will not have a problem anymore with the storage of the tangible books. Another advantage is that you can read the e-books that you downloaded anywhere and anytime. And it doesn't need any internet connection anymore once you have downloaded it. You can read in the bus or train while waiting for your stop or you can just get your iPad out during your free time. With this website, you can get a daily subscription to the news, or read new books through your Apple iPad.
Does that help? In that case, we'd like to recommend another article about personal computers: would you like to know how to increase startup speed on Windows computers? Check out the Computer Too Slow website!