If your system has become infected with virus, trojans, malwares, this tools listed below should help you in repairing the damage.  Below is the listed most free virus removal tools from AVG, Kaspersky lab, McAfee, ESET,F-Secure and Microsoft.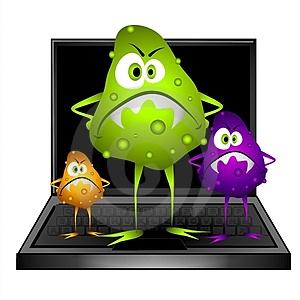 1- AVG Free Antivirus Removal Tool – AVG provide number of tools to remove virus, worms, backdoor agents, downloader agents.  Vcleaner is one of the tools used for removing virus for free. Download the remover vcleaner.exe. Restart your computer in Safe mode and run the remover on the infected computer. Vcleaner removal utility will detect and remove viruses from your PC. There are other tools like Worm/Downadup (Worm/Conficker). Visit list of virus removal tool from AVG.
Note: Some viruses can stop the action during the removal process. Just rename the vcleaner.exe to some different exe file (e.g. abc.exe). Restart your computer in Safe mode and run the tool on your computer.
2- Kaspersky Removal Tool – Kaspersky Lab has developed free virus removal tools. If your computer has been infected by any of the viruses listed below, you can download a free removal utility that will remove Trojan, backdoor agent, Email Worm, and many more.  Visit list of free virus removal tool from Kaspersky Lab
3- McAfee Virus Removal Tools – McAfee's free virus removal tool 'McAfee Avert Stinger' remove viruses like Sasser, Bagle, Zafi, Mydoom, Lovsan/Blaster, Klez, Bugbear from your system and help repair your computer. Visit full list of free MacAfee Virus Removal Tools.
4- ESET Spyware Removal and Antivirus Tools – The free tools from eset will repair your computer which is infected with a virus, spyware, keylogger or other malware. Select the free virus removal tool from eset.
5- F-Secure free virus removal tool – You can download the free F-Secure Anti-Virus for DOS which is free. The other versions are either for 30 days-evaluation or commercial ones. There are other virus removal tools like AntiFun tool which is used to protect a system from Funlove infection coming over a network. F-Bagle utility that disinfects computers infected with the certain Bagle worm variants. The F-Bot utility that disinfects your computer which is infected with Agobot, Wootbot, SdBot, RBot, SpyBot, ForBot, IRCBot and many other tools. Visit F-Secure free virus removal tool for complete list.
6- Malicious Software Removal Tool – This tool checks your computer for infection by specific, prevalent malicious software (including Blaster, Sasser, and Mydoom) and helps to remove the infection if it is found. Microsoft will release an updated version of this tool on the second Tuesday of each month. Visit the Malicious Software Removal Tool to Download.
7- Malwarebytes Anti-Malware – Detect and remove malware that even the most well known anti-virus and anti-malware applications fail to detect. Anti-Malware monitors every process and stops malicious processes before they even start.