Oil and Gas Regulatory Authority (OGRA) has submitted a summary to increase prices of petroleum products, effective from 01 May 2019.
Increase of Rs.14.37 in petrol, Rs.4.89 in diesel, Rs.6.40 in light diesel and Rs.7.46 in kerosene oil is recommended by the regulatory. It was not more than a month ago since OGRA increased the petrol price by approximately 6.44%.
The final decision will be made collectively by the Finance Ministry and Prime Minter.
As per the precedent, OGRA's summary is likely to be accepted with slight abatement.
After the new government took over in August 2018, relative petrol price fluctuations are as under: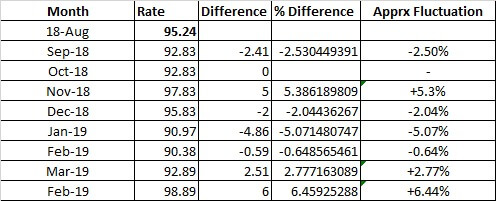 How long is it going to hold the public sentiment?
Cat is finally out of the box, as OGRA's summary was not accepted, and the government decides to retain the prices of petroleum products for May 2019.
But the question is, how long can the government sustain the deficits to entertain the general public? Evidently, it is just a temporary relief, and much more is yet to come.
Budget is just around the corner, and it is becoming a huge concern for the public.
Last minute removal of the finance minister also raises questions on economic planning.
Layman neither understands nor interested in the government's fiscal or monetary policies, as his major concern is survival amid inflation.
Since August 2019, not a single bill has been passed in the assembly, and IK government is struggling hard to perform.
Internal conflicts among the government and also among PTI officials are lingering on since August, and apparently, it seems that PTI has underperformed as yet due to non-deliverables.