Rumors hit the city of lights tonight as a viral message suggested that there is a fuel shortage in Karachi. Oil refineries in Karachi have resumed operations following a brief pause after the toxic gas spill in Keamari, oil marketing company officials confirmed Wednesday. They said there was no threat to the Karachi fuel supply.
Long car and motorbikes queues were developed outside of Karachi gas stations as panicked people tried to get their vehicles full. However, oil manufacturing companies officials dismissed reports about the city's lack of fuel, mainly petrol.
Total resumed its supply Wednesday as the Pakistan State Oil continued to supply from its Zulfiqarabad terminal, according to oil industry sources.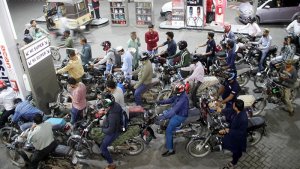 A Shell official also confirmed that they opened their terminal on Wednesday, and the supply chain is not affected.
Earlier this week, the oil terminals were temporarily suspended after a toxic gas spill in Keamari. It killed 14 people and affected more than 500 people.
In a statement, the PSO spokesperson said that the company is ensuring an uninterrupted supply of petroleum products at all of its pumps.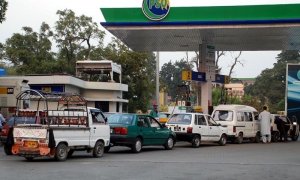 "Uninterrupted supply of petroleum products in being ensured in all parts of the country including Karachi," the statement said, adding that an increase in consumer load was witnessed due to petrol pumps of other oil marketing companies closing down in Karachi.
According to the handout, the PSO is supplying fuel greater than its market share in the wake of the current situation as a matter of "public benefit".
The statement cautioned, however, that consumers may have to wait at PSO petrol pumps while obtaining fuel.