North Korea test-fired a missile off its east coast on Wednesday, likely from a submarine, the South Korean military claimed, a day after announcing it would resume abandoned dialogues over its nuclear treaty with the United States.
The National Security Council in Seoul showed "strong concern" over the launch of what it claimed may have been a submarine-launched ballistic missile (SLBM), according to a statement put forward by the presidential Blue House.
If true, it would be the first time North Korea has fired an underwater missile in three years.
South Korea's military said it detected a missile that flew 450 kilometres (280 miles) and reached an altitude of 910 kilometres (565 miles), and that it was supposed to be a "Pukguksong-class" type missile that North Korea tested previously during an underwater drill in 2016.
Japan also started a sudden protest, claiming the missile landed inside Japan's economic exclusive zone (EEZ), the first time a North Korean projectile has landed that close to Japan since November 2017. The EEZ ranges waters as far as 370 kilometres from the coast.
Japan's Defence Minister Taro Kono declared the launch "a serious threat to Japanese national security" mentioning that it was an "extremely problematic and dangerous act" for the safety of vessels and aircraft.
Washington called on Pyongyang to "refrain from provocations" and remain stick to nuclear negotiations after North Korea launched a ballistic missile off its east coast.
"We call on (North Korea) to refrain from provocations, abide by their obligations under UN Security Council Resolutions, and remain engaged in substantive and sustained negotiations to do their part to ensure peace and stability on the Korean Peninsula and achieve denuclearisation," a state department spokeswoman said on Wednesday.
The launch is the ninth one in series since US President Donald Trump and North Korean leader Kim Jong Un met at the heavily-guarded Demilitarized Zone between the North and South Koreas in June, with the intention to discuss North Korea's nuclear and ballistic missile programmes.
A submarine-launched ballistic missile (SLBM) is a ballistic missile capable of being launched from submarines. Modern variants usually deliver multiple independently targetable reentry vehicles (MIRVs) each of which carries a nuclear warhead and allows a single launched missile to strike several targets like a cluster bomb.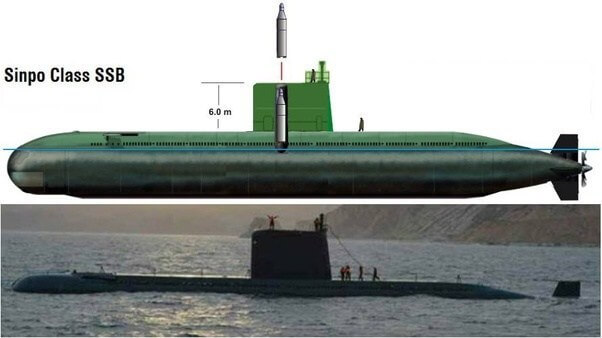 The Sinpo class submarine also called the Gorae ("whale") or Pongdae class, is a new class of submarine, capable of launching such ballistic missiles while staying underwater, produced in North Korea. It is the largest submarine designed and built for the Korean People's Navy.