On Sunday, several teachers were injured as police used tear gas shelling and water cannon during a protest at the Karachi Press Club (KPC).
Police also baton-charged the protesting teachers after a conflict broke out between the protesters and the authorities when the demonstration chose to relocate the Chief Minister House near the KPC.
Shortly after the violence began, police efficiently blocked the way of the protesters, but many teachers were injured by the batons, tear gas, and water cannon. However, some others have also been detained.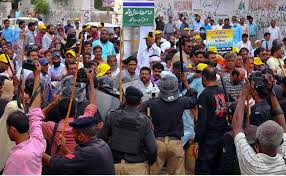 Police used batons, tear gas on teachers who were demanding fundamental rights in Karachi. Despite passing their Educational Testing Service (ETS) test, teachers protested for not being permanently employed.
On the other side, Murtaza Wahab, counselor for the Sindh chief minister on law, anti-corruption establishment, and information, said the teachers were free to protest outside the KPC, but the local government could not allow a demonstration outside the CM House.
Regarding the alleged violence perpetrated by the police, Wahab said the teachers who protested not being permanently employed should instead apply to the posts advertised, in line with the Public Service Commission.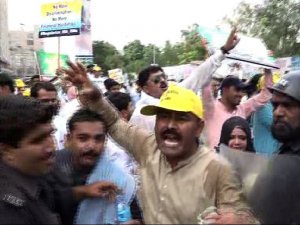 Earlier this year, in March, police had targeted another group of protesting with batons and tear gas after they had started moving as a rally from the KPC to the CM House nearby. At that time, they were demanding basic employee rights, including promotion and group insurance.
It had led to the protesting teachers announcing to boycott teaching starting the same day.