General Qamar Javed Bajwa has been appointed as Pakistan's Chief of Army Staff for another three years.
The decision has been taken due to the on-going regional security threats, the appointment letter reveals.
"General Qamar Javed Bajwa is appointed Chief of Army Staff for another term of three years from the date of completion of current tenure. The decision has been taken in view of the regional security environment," stated in the notification issued by Prime Minister's office.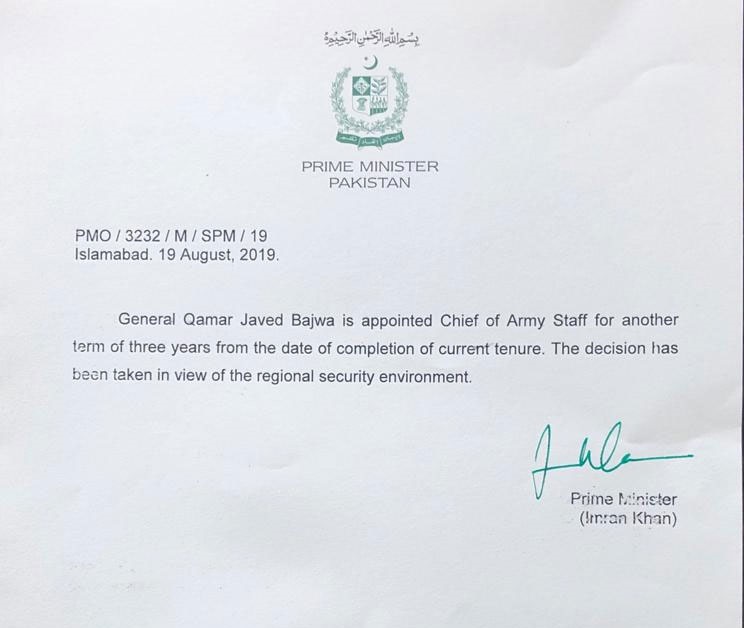 General Qamar Javed Bajwa is Pakistan's 10th Chief of Army Staff (COAS), since 29 November 2016.
Bajwa is the specialist of military strategies in Kashmir, as on 14 August 2013, Maj-Gen. Bajwa was promoted to three-star rank and appointed as field commander of the X Corps, stationed in Rawalpindi. He was appointed as a Grade-I officer during his tenure as field commander of the X Corps. The appointment was presented in the media that mentioned Lt-Gen Bajwa had been given the chain of command of X Corps for the 3rd time, which is the Pakistan Army's most strategic, important and largest corps, which has experience of keeping control over the situation in Kashmir.
Modern warfare is purely based on strategy, as it's an era of Quality vs Quantity.
A Chinese General and Military Strategist, Sun Tzu said, "Tactics without strategy is the noise before defeat."
For having an overwhelming experience of battles in the Western front of Pakistan (LOC), Bajwa is proved to be one of the best military strategists and important asset for Pakistan regarding Kashmir issue.
Bajwa is also responsible for the revolution in the training strategy of the Pakistan Army to encounter the internal crisis and hostile situations as he was posted in the Army GHQ, after being appointed as the Inspector-General of the Training and Evaluation (IGT&E) where he was a Principal Staff Officer to then-Chief of Army Staff, General Raheel Sharif.
Under the supervision and leadership of Qamar Javed Bajwa, Pakistan will surely rise from the current crisis by successfully encountering the threats from the evil-souled Indian Army, giving them a life-time lesson of not repeating the same mistake twice.
The step of extending Bajwa's tenure for 3 years, will surely give burning pain to the BJP-led Indian Government and coward Indian Army, already frustrated enough to target the civilian population in Azad Kashmir by cross border firing.