Pakistan is one of the most significant geographical and strategically important countries of Asia. It's a land of plains, mountain ranges having world's highest peaks, deserts and coastal belt having World's deepest port, Gawadar.
Pakistan is a land of 108 peaks above 7,000 meters and probably as many peaks above 6,000 m. There is no count of the peaks above 5,000 and 4,000 m. There are 14 Mountains in this world having a summit higher than 8000 meters and are called Eight-Thousanders. (Their summit is said to be in a death zone because there is no oxygen above 8000 meters and climbers have to bring oxygen mask along with. 90 percent of deaths happen in a death-zone). Among those 5 of them are in Pakistan.
K-2 is the 1st highest mountain of Pakistan and 2nd highest in World, in Karakoram range. Nanga Parbat is the one, anchors the western Himalayan Range and ranked 9th highest in the World and 2nd in Pakistan after K-2. Followed by Gasherbrum 1, Broad Peak and Gasherbrum 2, World's 11th, 12th and 13th highest, respectively.
A country shares its Eastern Border called Line of Control (LOC) with India. On its Northern side, it has China-Pak Border. Its Western fronts include the boundaries of Durand Line with Afghanistan and the Gold Smith Line with Iran. The Arabian Sea boundaries the South of the country.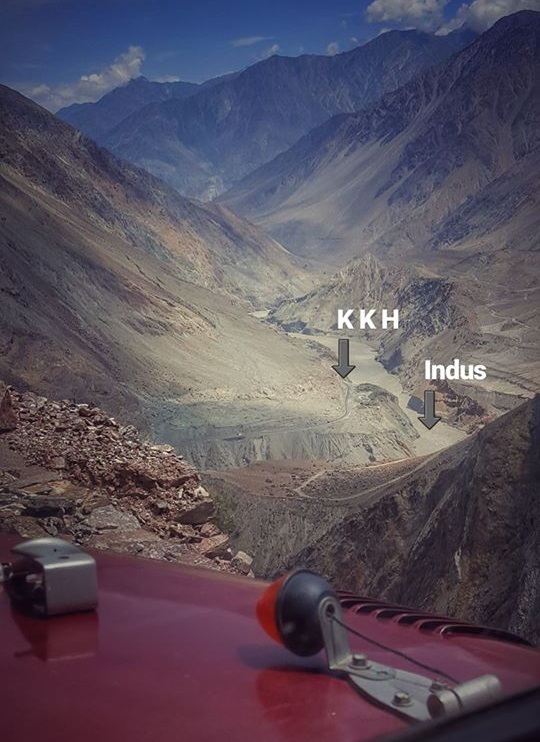 I took this photo while coming back from Fairy Meadows in 2017, a mountain plateau that surrounds Nanga Parbat mountain. A photo portrays Pakistan's two points of pride in a single frame.
1. KKH (8th wonder of the world)
2. Indus River (The Lion River)
Karakoram Highway (China-Pakistan Friendship Highway) is a 1300 km national Highway which extends from Hasan Abdal in Punjab province to the Khunjerab Pass in Gilgit-Baltistan, where it crosses into China and becomes China National Highway 314. The highway connects the Pakistani provinces of Punjab, Khyber Pakhtunkhwa and Gilgit-Baltistan with China's Xinjiang Uyghur Autonomous Region. The highway is a popular tourist attraction, and is one of the highest paved roads in the world, passing through the Karakoram mountain range, at an elevation of 4,714 meters. Due to its high elevation and the difficult conditions in which it was constructed, it is referred to as the "Eighth Wonder" of the World.
Indus River, originating in Tibet and having reached the Northernmost point in its journey a few miles before "This point" (framed in a picture below) it turns and now flows in a southern direction running through the entire length of Pakistan, to culminate in the Arabian Sea (at Indus River Delta). It enters Pakistan flowing northwestwards into Baltistan, having already traveled mear 1000 Kms from its source near Lake Mansarovar and Mount Killas in Tibet, China and passing through Ladhak, India along the way. The Indus existed before the mountains formed and are 3200 km long, making it the 3rd longest river in Asia and 21st longest in the world (Amazon of South America being 1st longest with a length of 6992 Kms and Nile of Africa, 6852 km being 2nd). 85 percent of the Indus discharge is carried in May to September period resulting from snow and glacial melt as well as the monsoons.
Indus is referred to as Lion River (شیر دریا) derived from its Balti/Laddakhi translation "Sang-e-Khabab" (سنگے کھبب). Indus is centuries older than the Nanga Parbat and the entire valley of Diamir (which was named after Nanga Parbat's colossal structure afterward).
PS: Picture was captured from Fairy Meadows Road which is among the World's scariest and highest paved paths.