The U.S. and China have reinitiated their dialogues on trade, but outcomes are revealing that a long-term deal could be a long way off, if it finally happens as President Donald Trump said on Tuesday that there's still a long way to go to reach a deal with China, threatening to cast tariffs on another $325 billion of Chinese goods.
Meanwhile, Beijing had recently added a new member to its negotiating team, the country's commerce minister, Zhong Shan, who was present at last month's G-20 summit and took part in a telephone conversation with Washington's representatives last week.
His recent statement to the Chinese press indicated his hard stance over the ongoing trade war.
"The U.S. side has provoked economic and trade frictions against us and violated the principles of the WTO. It is typical of unilateralism and protectionism," Zhong told the People's Daily, the official newspaper of the Communist Party in China, "We have to uphold our warrior spirit is firmly defending national and people's interests in defending the multilateral trading system." Translated by Google.
An apparently never-ending trade war between Beijing and Washington seems to be swallowing the Chinese economy. Data on Monday showed the weakest rate in at least 27 years as its economic growth slowed down to 6.2% in the second quarter.
Trump called this slower growth evidence of China's defeat in the trade war, saying in a Twitter post on Monday that China wants a deal because the U.S. tariffs were having "a major effect".
Geng Shuang, Chinese Foreign Ministry spokesman answered that China's first-half pace was a "not bad performance" and was in line with expectations.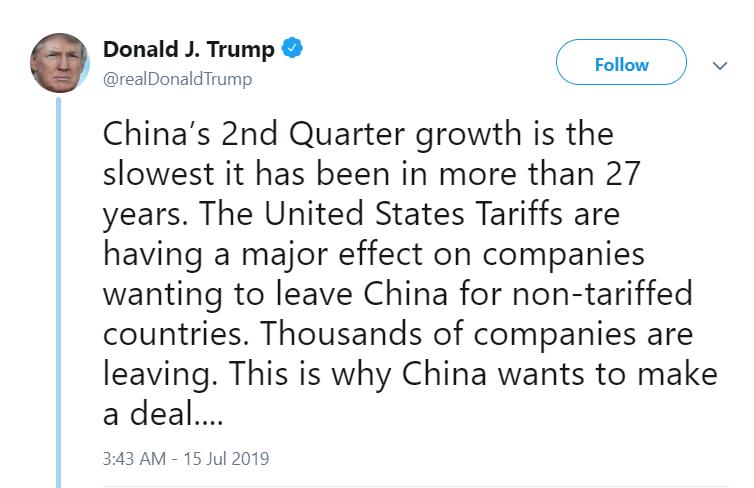 "As for United States' so-called because China's economy is slowing so China urgently hopes to reach an agreement with the U.S. side, this is totally misleading," Geng added.