Plane with Justice for Kashmir banner flies over Headingley stadium during India-Sri Lanka match
While several people claim that politics and sports should not be mixed. Banners reading "India stop genocide & free Kashmir" were flown over Headingley stadium during India's World Cup match with Sri Lanka on Saturday.
The incident took place during the first innings of the India-Sri Lanka match on Saturday when a plane which reads a political message "Justice For Kashmir" was spotted flying over the stadium. A few minutes later, another plane carrying a banner, displayed "India stop genocide and free Kashmir," appeared over the stadium.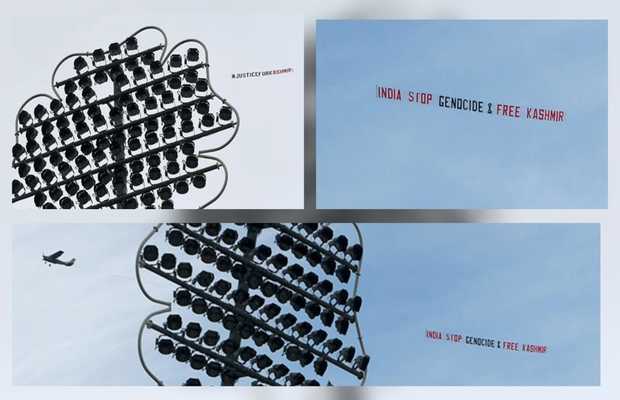 It was the second such incident at the event in England and Wales after a banner was flown over the same ground in Leeds during last week's match between Pakistan and Afghanistan. Last week's match between Pakistan and Afghanistan was disturbed by clashes between fans. A clash broke out after the flying of a banner over the ground reading "Justice for Balochistan."
The ICC condemned the act as it says it has "zero tolerance for political or racist slogans". The ICC voiced its disappointment over a second security breach within a week.
The International Cricket Council said in a statement. "We do not condone any sort of political messages at the ICC Cricket World Cup."
"Throughout the tournament, we have worked with local police forces around the country to prevent this type of protest occurring. After the previous incident, we were assured by West Yorkshire Police there would not be a repeat of this issue, so we are very dissatisfied it has happened again." They added.
As ICC has already asked aviation authorities for not permitting any aircraft to fly over stadium, these incidents of the security breach and airspace violation are also a matter of serious security concern for the ICC, which is committed to providing a safe playing environment to all players.
Plane with Justice for Kashmir banner – Cricket World Cup  2019 News and Update 2019