Lake Saif-ul-Malook – ranked as the fifth best tourist attraction of Pakistan. It's a greenish-blue crystal clear lake with freezing water, surrounded by giant glaciers and famous giant and mysterious Malika Parbat Mountain (5,290 meters / 17,360 feet highest peak of Kaghan Valley, famous as non-climbable among the local population due to steepness as well as supernatural hazards). The divine lake exists at the northern end of the Kaghan Valley near Naran. It is the highest alpine lake of Pakistan at an altitude of 3,224 meters/ 10,578 feet above sea level. The lake's depth is still unknown. The lake is kind of a flask where multiple glacial-water collects and flows forward and fall into Kunhar River. It consists of large eco-diversity which includes a rare brown trout fish which is quite popular in Kaghan and in Naran as well.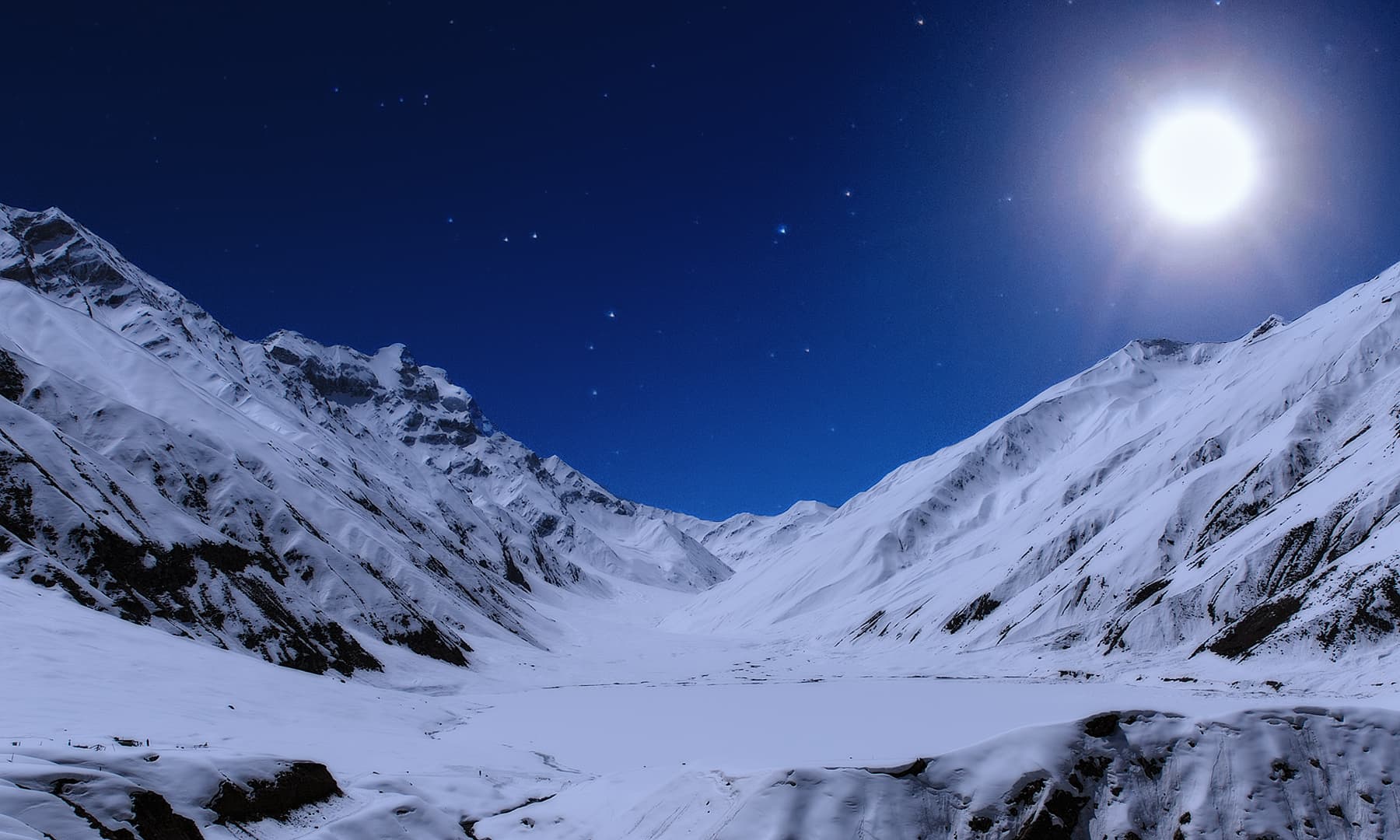 The magical lake remains completely frozen during winters due to heavy snowfall and extreme weather. The ideal time for tourists starts from June to September. The weather of the lake is extremely pleasant during day time, about 15-20 degree centigrade. Whereas at night the temperature drops to three degrees centigrade.
Camping at the time of the full moon is like lying in a fairyland and for photographers who want to take long exposure shots of the milky way, it is recommended to visit on dark moon lunar phase and enjoy 'Billion Stars Hoteling' under the milky way and enjoy meteorite shower.
A curvy road to Lake Saif ul Malook is the 3rd most difficult and scariest road of Pakistan and is only accessible by 4 by 4 vehicles. You can book your 4 by 4 jeep ride from Naran Valley around 2500 to 3000 PKR.
The mythical and mystical story of the lake is very famous and attracts tourists from all over the world. The story is about a prince, Saif-ul-Malook, who fell in love with a fairy princess, Badi-ul-Jamal. You can listen to this story from locals at Saif ul Malook Lake against 100 to 200 Rs Tip. According to the locals, it is a place of fairies and demons, who through the extremity of weather display their anger.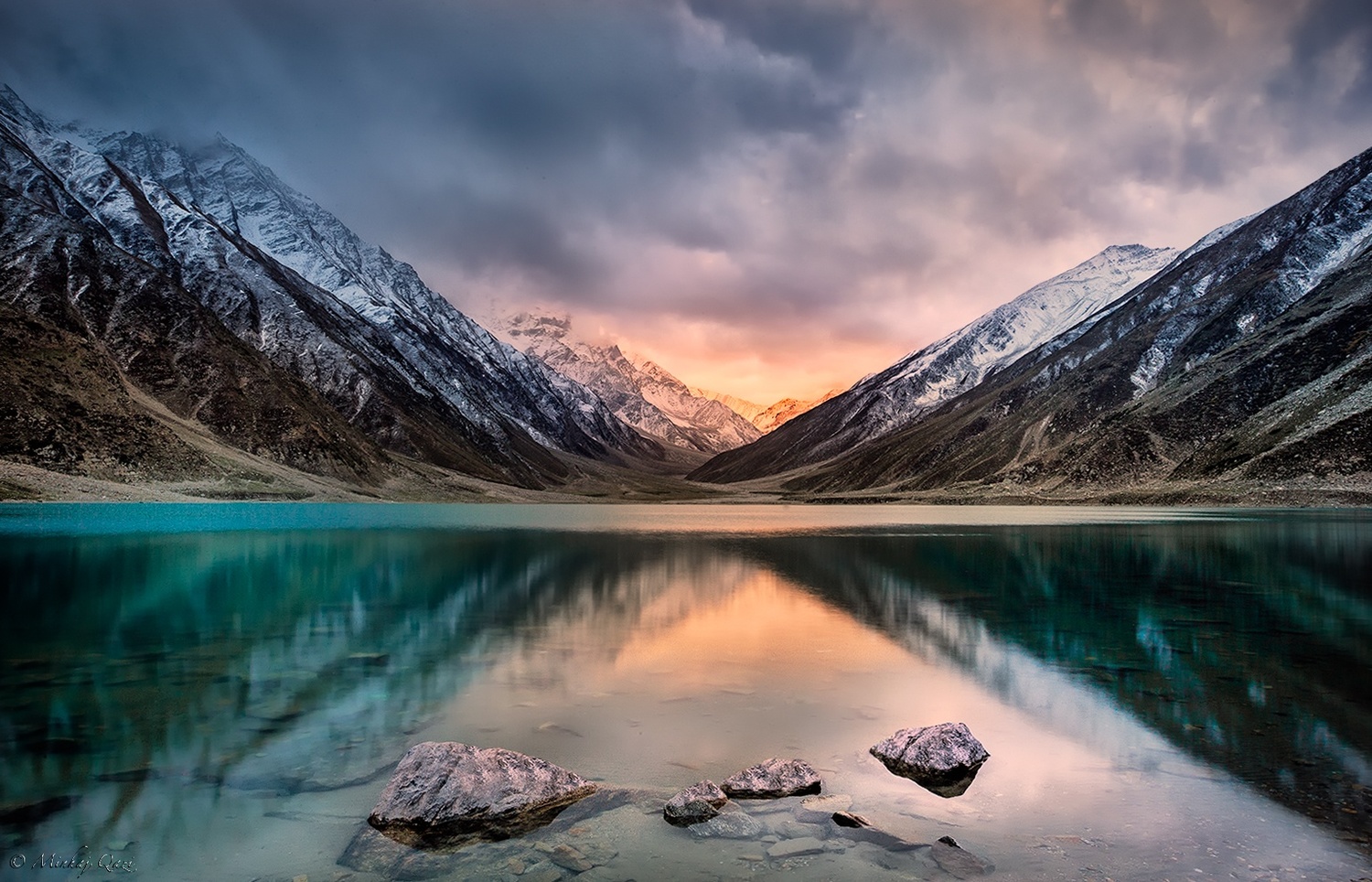 Storytellers narrate that they have not witnessed any supernatural event but seen the glory of God. Every month, on the 14th night of the lunar month, the lake is like a mirror and they have seen lights, floating lights and watched them disappear under the rocks.
The main characters of the story include Saif-ul-Malook and Badi-ul-Jamal. Saif ul Malook who was a prince of Egypt had a great amount of treasure which he inherited from his ancestors. Inscribed on the treasure there were seals portraying pictures of Princess of Fairies Badi-ul-Jamal.
When Saif saw the picture of the fairy he deeply fell in love with her. He then left his homeland in search for her, a journey that took six years to let him reach Naran Valley. One day a saint met Saif in the streets of Egypt and gave him a Sulemani cap, telling him that it will take the prince to his desired place. The saint told the prince that he would find the fairy in a lake but he had to pass several magical exams and as she was a fairy queen and prince was human. A human eye can never see a demon or fairy as they are made of Fire.
Saif reached up to the lake and started a Chilla. Day by day his health was getting worse but he didn't give up. After praying for 40 consecutive days without food and rest he became exhausted and weak. It was the 14th night of the moon and he thought maybe tonight he'll see her. Then suddenly he saw a fairy queen coming along with her maids towards the lake for a bath. She was immensely beautiful.

Saif approached to her and fairy got frightened because she has never seen a Man in his lifetime. Saif asked her to relax and after talking to Badi-ul-Jamal, Saif came to know that she was trapped in a castle at Koh Qaf (A mythical place near Russia supposed to be a kingdom where all Jins/Jinnaat live, rules by Shah e Jinnaat) by Safaid Deyo (white giant) for the past 10 years. The white giant was also in love with the fairy.
After listening to the story of the fairy queen, Saif took her and tried to escape from this valley. When the white giant came to know about this, he created a storm out of anger in a Lake, as a result of which flood came in Kaghan Valley. Due to the flood, Saif and Badi-ul-Jamal took shelter in a cave near the lake.
Locals tell that the Ansoo Lake in Kaghan Valley (Few miles away from Saif-ul-Malook, reachable by difficult 5 to 6 hours trekking for adventure seekers), was created out of the tears of the white giant when he found that the fairy has gone. According to the locals and rumors, the prince and the fairy queen still live, to this day, in that cave and dance above the water surface on the 14th night of every lunar month.