An Indian Air force crew carrier plan reportedly to crashed on June 03, 2019. No details were issued immediately. Anyhow, Indian Air forces released the information as it proceeded with rescue and recovery. Sadly, there was nothing to rescue.
On Tuesday, June 13, 2019, wreckage of An-32 was found in Arunachal Pradesh. 13 dead bodies of Indian Air force personnel were recovered along with the black box.
On June 3, The Russian-origin An-32 aircraft took flight from Jorhat in Assam province and was heading for Menchuka (located near China-India border). Menchuka is a small town about 6,000 feet above sea level in Arunachal Pradesh. After around 33 minutes of take-off, flight lost contact from radar. Initial investigation (pictorial analysis) suggested that the plane tried to fly above the mountain but could not make it.
IAF recovered the black box and also issued names and pictures of the diseased on June 13, 2019. Fifteen people were flying in total. Not a single person aboard could survive the crash. The Indian air force has already informed the families of its staff before making the names public.  This Thirteen personnel from different ranks lost their lives in the accident.
Wing Commander GM Charles,
Squadron leader H Vinod,
Flight lieutenant R Thapa,
Flight lieutenant A Tanwar,
Flight lieutenant S Mohanty
Flight lieutenant MK Garg,
Warrant Officer KK Mishra,
Sergeant Anoop Kumar,
Corporal Sherin,
Lead Aircraft Man SK Singh,
Lead Aircraft Man Pankaj,
Non-combatant Employee Putali &
Non-combatant Employee Rajesh Kumar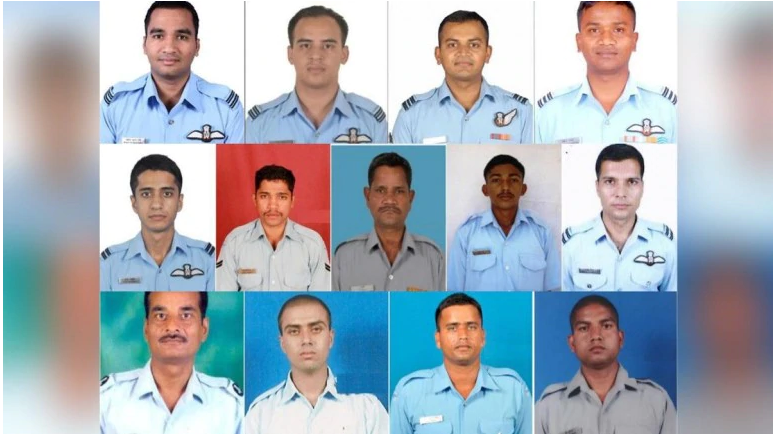 Indian Air force issued all the information in a series of tweets. Including the announcement of victims of the plane crash. The very first possible cause of the crash was also tweeted.
#Update on #An32 crash: Eight members of the rescue team have reached the crash site today morning. IAF is sad to inform that there are no survivors from the crash of An32.

— Indian Air Force (@IAF_MCC) June 13, 2019