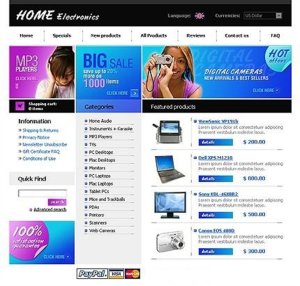 Ecommerce websites are the main means of conducting business, when it comes to on line shopping. They have made shopping a more functional and pleasant experience by bridging the gap between the consumer and supplier at the ease of their computer at home, or at work. But if you really hope to make the most out of your e commerce website, there are some key features which you should incorporate into your website, to convert online surfers into immediate sales. These features include:
Navigation:
Navigation refers to the ability move from one webpage to the next. If done properly, users should be able to access the information they are looking for, quickly and easily. To boost the navigation capabilities of your ecommerce website, we suggest you clearly demarcate the categories for the products you're selling. A good place to do this is on the home page of your website, and a mini tool bar on the header of your webpage(s), for easy access.
Formatting:
Make good use of the heading and subheading in your web page(s). Use larger fonts for these headings to attract the attention of your audience. It also makes it easier for user to navigate through your website, without time wastage.
Accessibility of information:
In some cases, users may not be willing to navigate through the different pages on your website, to find what they want. For such people, you should incorporate a search bar into your website, which would allow them to perform a key word search, thus getting the information they are looking for quickly. To make their search narrower or broader you could utilize search filters that allow users to search for products by brand, price, year, color, etc.
Loading time:
Avoid excessive animations, flash presentations and graphic design art work. The more of these elements you incorporate into your website, the longer it will take to load your website, and since most online shoppers would like a quick online shopping experience, it may reduce the amount of traffic going through your site. Find away to keep your product displays simple, but yet attractive and effective to create sales.
Make it safe:
Ecommerce involves the exchange of goods and services for money and with that factor in mind, every ecommerce entrepreneur should make sure that their customers feel safe and secure to transact their business online. You can do this by using encryption software, to keep customer details safe. You could also use the services of a payment gateway, such a PayPal. Therefore, consumers won't have to submit their credit card details, and thus creating a safer online shopping environment, which will ultimately result in higher sales figures.
Add brilliance to your professional Adobe CS5 software designed sites using an easy to use Adobe fireworks software and an interactive flash catalyst CS5 software.