Each blogger works hard to attract visitors and build a strong reader base. Still, if a visitor spends only a few seconds on your Website. What you can do in these few seconds to retain him. Apart from writing good content and doing effective SEO activities, you can also add some additional features to your blog which might help to retain the visitors. In this write up, we'll guide you to add some useful options to your blog not only to facilitate the visitors.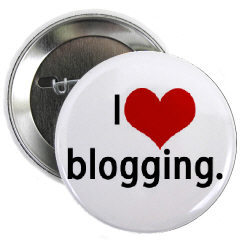 Search Box
A search box is there on your Website by default, but does it work efficiently. May be it is working? You can add the search box from Google, Ask, Bing, and Blekko to your Website. It is quite easy to add Google Custom Search, Ask Search Box, and Blekko Embeddable Search Box at your Website.
On the contrary, you've to do some programming to add Bing Search Box. If you like to add the Social Search on your Website then Twitter Search is there to help you. Twitter Search displays the search results on real time basis. It is noteworthy to mention that you can add your AdSense account with Google Search box to monetize the search results.
Contextual Search
Suppose a reader likes a particular word on your Website and wants to know more about it. Normally, a visitor copies the word searches for them either on your Website or using search engine to read more about the selected word. For doing this, he/she leaves your Website in just minutes or seconds.
What is the solution to retain him? You can install Apture Highlights. It is a breeze to install Apture Highlights to your Website. You just have to sign up at its Website, add information like your YouTube/Twitter account, add its script in the footer of your Website, and let Apture to verify your Website.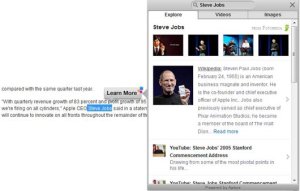 Preview of Apture Highlights Working
After installation, when a visitor selects a word on your Website then he/she will notice a button 'Learn More' popped up. He/she can click 'Learn More' and Apture will search your Website and Web to show the relevant results in a pop up box. Finally, the visitor remains on your Website for more time. You'll get email alerts as soon as Apture retains visitors for you. In addition, you can sign in the Amazon Affiliate and add your Affiliate ID in Apture Highlights for monetization with retaining visitors.
Show Outbound Links in Pop-up
We all add outbound links on our Website either to authorize our information or for link building. If a user clicks on link then he/she will be redirected to the linked page. It means you're saying Good Bye to visitors. To solve this problem, you can add Snap to your Website. Like Apture Highlights, you just have to sign up with this service and add its script on your Website. It will display the preview of outbound links in a pop-up when a visitor hover the mouse on links. You can use snap to display Photo Album, Video, Song, Wikipedia Entry, etc. in pop-ups at your Website only.
Contextual Advertisement
 It's quite hard to get Google AdSense for your Website until it's popular. If you've AdSense then you always look for other ways to monetize your Website without disturbing the readers. There is a solution named Contextual Advertisement. Infolinks, Snap LinkAds, Kontera, and Text Link Ads are famous Contextual Ad Providers. We advise you to do a contract with only one Contextual Ad Provider. You just have to sign up and install a small script to enable the contextual advertisements on your Website.
The best thing is that you don't have to write keyword-targeted articles to show advertisements and generate money. The Context Ad Providers automatically scan your Website's content and highlights the relevant words. The advertisements will only be displayed when a user hover the mouse over highlighted phrases as shown above.
Prove Your Site is Secured
McAfee has launched SiteAdvisor extension for all major browsers like Internet Explorer, Mozilla Firefox, Google Chrome, Opera, and Safari. The users are using it widely because it shows whether a URL is secured or not. It also scans the URLs appeared in SERPs at users' machine and denote unsecured Website. You can submit your Website to McAfee SiteAdvisor. McAfee will scan your Website and show it protected in the search engine results at users' machine. In addition, you'll get a badge to show that your Website is secured by McAfee.

McAfee SiteAdvisor Notations
Do not Forget RSS Feeds
You can use RSS feeds to send your Website directly to the inboxes of regular visitors. You can subscribe to Google Feedburner to burn the RSS feeds of your Website and send updates to your visitors via email. This will provide you a Subscribe Box for your Website. Visitors can enter the email address in this box to subscribe with your service and they are free to unsubscribe from this service on their own convenience.
Create, Publish, and Distribute RSS Feeds of your Website with Feedburner