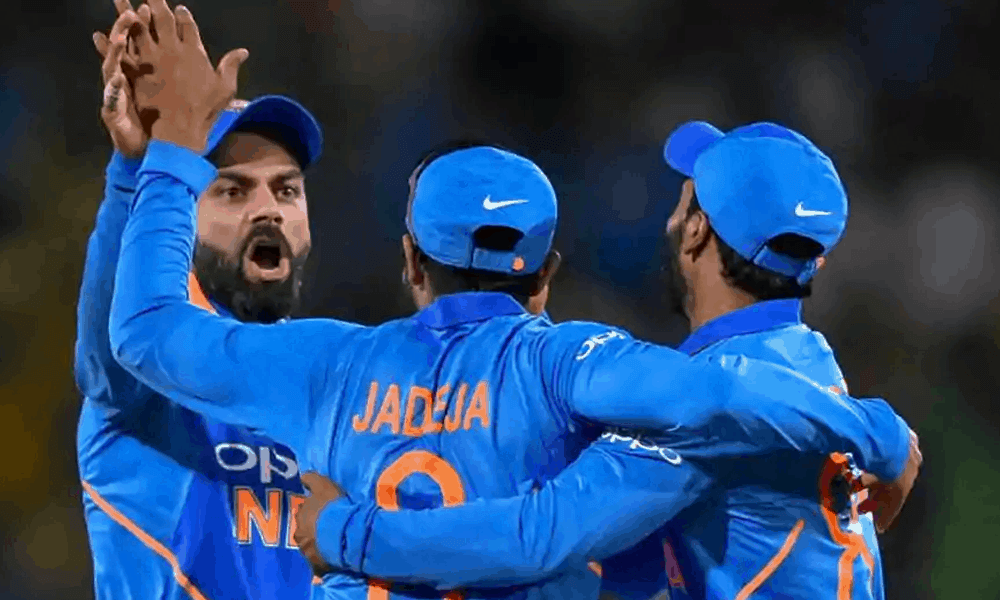 NAGPUR: India pulled off an eight-run triumph in a low-scoring spine chiller after all-rounder Vijay Shankar picked two wickets in the last over of the second One-day International against Australia on Tuesday.
The Australians required 11 keeps running from the last over with two wickets close by however, Shankar, playing just his 6th ODI, kept his nerves to pick a wicket off his first and third balls in the day-night amusement in Nagpur.
Captain Virat Kohli, who struck 116 in India's unassuming aggregate of 250, requested that Shankar bowl the last over in front of the ordinary Kuldeep Yadav, and he was remunerated abundantly for his turn.
The Aussies were bowled out for 242 off 40.3 overs with Marcus Stoinis top-scoring with 52.
It was the 500th success in One-day Internationals for India.
The guests were set for an unfaltering begin with openers Aaron Finch (37) and Usman Khawaja (38) putting on 83 keeps running before being rejected in progressive overs.
Glenn Maxwell (18) saw his stumps being evacuated after a ball from Kuldeep Yadav sneaked from under his bat.
However, it was the come up short on Peter Handscomb who looked set for a major score that hurt the guests hard.
Handscomb, who made 48 off 59 balls, endeavored to take a hazardous single yet Ravindra Jadeja committed no error in hitting the stumps.
A twofold strike by Jasprit Bumrah (2-29) turned the amusement around for the Indians who guaranteed there was no easing up in the weight on the guests.
Prior Kohli crushed his 40th century on a testing pitch that appeared to help bowlers.
Kohli hit 10 fours in his 120-ball thump and held stay after Australian chief Finch had chosen to bat.
The Indians got off to a rough begin, losing openers Rohit Sharma and Shikhar Dhawan (21) from the get-go in the innings.
Sharma (0) finish edged off Adam Zampa and Dhawan (21) was given out leg before wicket after Australia's allure was maintained on the survey.
India had no such karma as Ambati Rayudu's choice to request against the on-field umpire's lbw choice was turned down, the hosts diminished to a flimsy 75-3.
Kohli, the world's best positioned ODI batsman, went for the counter-assault, hitting two fours off the last two bundles of the eighteenth over by Zampa to underline his best structure.
The 30-year-old captain coordinated his innings flawlessly, sewing an 81-run association with Shankar, who inspired amid his 41-ball 46 preceding being run out by Zampa.
Zampa struck again before long, rejecting Kedar Jadhav (11) and Mahendra Singh Dhoni (0) off progressive balls to daze the homegroup into quietness.
However, Kohli looked free at the opposite end, achieving his 40th ODI century with a four-over in reverse point.
The ostentatious skipper evacuated his protective cap and raised his bat to recognize the praise from the group and the changing area.
Kohli's innings finished when he holed a basic catch to Stoinis off Pat Cummins who grabbed four late wickets.
Scoreboard
INDIA:
R.G. Sharma c Zampa b Cummins 0
Dhawan lbw b Maxwell 21
Kohli c Stoinis b Cummins 116
A.T. Rayudu lbw b Lyon 18
Shankar run out 46
K.M. Jadhav c Finch b Zampa 11
M.S. Dhoni c Khawaja b Zampa 0
R.A. Jadeja c Khawaja b Cummins 21
Kuldeep Yadav b Cummins 3
Mohammed Shami not out 2
J.J. Bumrah b Coulter-Nile 0
Additional items (B-1, LB-7, W-4) 12
Complete (hard and fast, 48.2 overs) 250
FALL OF WKTS: 1-0, 2-38, 3-75, 4-156, 5-171, 6-171, 7-238, 8-248, 9-249.
BOWLING: Cummins 9-2-29-4 (1w); Coulter-Nile 8.2-0-52-1 (1w); Maxwell 10-0-45-1 (2w); Zampa 10-0-62-2; Lyon 10-0-42-1; Stoinis 1-0-12-0.
AUSTRALIA:
A.J. Finch lbw b Kuldeep 37
U.T. Khawaja c Kohli b Jadhav 38
S.E. Bog c Dhoni b Jadeja 16
P.S.P. Handscomb run out 48
G.J. Maxwell b Kuldeep 4
M.P. Stoinis lbw b Shankar 52
A.T. Carey b Kuldeep 22
N.M. Coulter-Nile b Bumrah 4
J. Cummins c Dhoni b Bumrah 0
N.M. Lyon not out 6
Zampa b Shankar 2
Additional items (LB-3, W-10) 13
Complete (hard and fast, 49.3 overs) 242
FALL OF WKTS: 1-83, 2-83, 3-122, 4-132, 5-171, 6-218, 7-223, 8-223, 9-240.
BOWLING: Mohammed Shami 10-0-60-0 (5w); Bumrah 10-0-29-2 (2w); Jadeja 10-0-48-1 (1w); Shankar 1.3-0-15-2; Kuldeep Yadav 10-0-54-3 (1w); Jadhav 8-0-33-1 (1w).
RESULT: India wins by eight races to lead five-coordinate arrangement 2-0.
UMPIRES: N.T. Menon (India) and H.D.P.K. Dharmasena (Sri Lanka).
Television UMPIRE: J.S. Wilson (West Indies).
MATCH REFEREE: R.S. Madugalle (Sri Lanka).
MAN-OF-THE-MATCH: Virat Kohli.