Mother-of-three at 183.9 mph becomes the fastest human being on a bike. San Diego's Denise Mueller-Korenek had officially smashed the world land speed record for riding a bicycle.
No human – man or woman – ever traveled under their own steam on a bicycle at a greater speed, so was Mueller-Korenek angry that a lot of press coverage seemed to fixate on her being a mother in her mid-forties?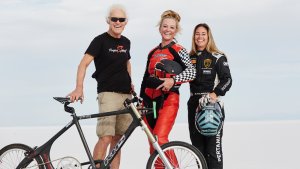 'You know, I don't see that as demeaning in any way,' she tells Cyclist in the days after her record-breaking ride in September. 'It's just part of who I am. It's a descriptor, just like my name.'
Despite beating Dutchman Fred Rompelberg's previous record, which set a speed of 268.8 kmh (167 mph) in 1995, the accomplishment of Mueller-Korenek is still recorded as the ' women's record, ' with Rompelberg's time still standing as the 'men's record.'
Separating the records may seem anachronistic, even sexist, but Mueller-Korenek has only to blame herself in a twist of irony.
She managed a speed of 237.7 kmh (147 mph) back in 2016, and it was called a 'women's record' because she was the only female ever to have attempted it.
As such, they are set to remain divided after splitting the records along gender lines, despite Mueller-Korenek surpassing the men's
record by nearly 30 kmh.
'Because of what I did in 2016, they created the women's record and made Fred's the men's record, and once they are separated the two shall not come back together again,' she says.
'This year I'm talking about, "Hey, it's an overall record, it doesn't matter whether it's man or woman," which is different from what I was saying two years ago.
'Still, I'm just hoping to inspire people, whether they be female, male, children. Just get back into the game of life and build something.'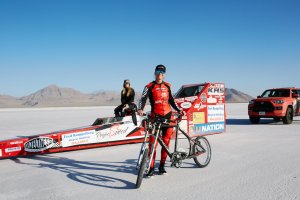 The equipment had to be up to the challenge as much as the speed record was a feat of human effort. For the run, Mueller-Korenek's bike was a reinforced version of the one she was riding in 2016, based on the one Rompelberg used in the 1990s.
'The carbon fibre is, I believe, around five times thicker than you'd find on a standard carbon bike. We utilised the same geometry as Fred Rompelberg used for his bicycle, and the motorcycle tyres and rims we used are already rated for more than 250mph.
'There was no way to truly test the bike as a whole, however we were able to know that the different components we had would be able to withstand that speed.'
Even so, the longevity of the equipment was limited to the record, as became clear soon after: 'Everything has its weak points. Just five days after the event the flange on the rear hub completely popped off.'
Having survived this attempt, and ridden herself into the record books, would Mueller-Korenek consider returning to the Utah Salt Flats to try to go over 200mph?
'It's a very alluring prospect to go for that,' she says. 'However this was very different from what I experienced in 2016 doing 147mph.
'This situation was a lot more terrifying and violent, and I wouldn't want to take it up another 16mph unless I had a lot more aerodynamic testing and wind-tunnel testing, which we didn't do at all.
'It's not only that. I've committed so much to the training for the past six years to prepare for this, I'm a little tired and I need some time off.
'It's something I might possibly think about down the road, but right now, nope, I'm willing to hang it up and help somebody else take it to that next level.'