Indian Army used cluster ammunition along the Line of Control (LoC) and targeted civilians.
Cluster bombs cause an immediate threat to civilians during the conflict by randomly scattering sub bomblets over a wide area. They continue to pose a threat even after the conflict by leaving remnants, including sub bomblets that refrain from exploding during a strike and become de facto landmines. The 2008 Convention on Cluster Munitions prohibits the use, production, transfer, and stockpiling of cluster bombs. It also requires the destruction of stockpiles, clearance of areas contaminated by remnants, and victim compensation.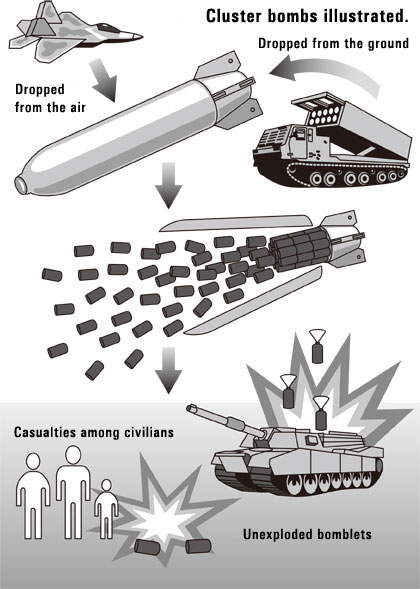 Director-General Inter-Services Public Relations (DG-ISPR) Maj Gen Asif Ghafoor said on Saturday that no weapon can suppress the determination of Kashmiris, mentioning further that the struggle of Kashmiris will succeed.
The DG ISPR in a tweet stated that the use of cluster bombs by the Indian army, in violation of international conventions, is condemnable.
"Use of cluster bombs by Indian Army violating international conventions is condemnable. No weapon can suppress determination of Kashmiris to get their right of self determination. Kashmir runs in blood of every Pakistani. Indigenous freedom struggle of Kashmiris shall succeed,IA," he tweeted.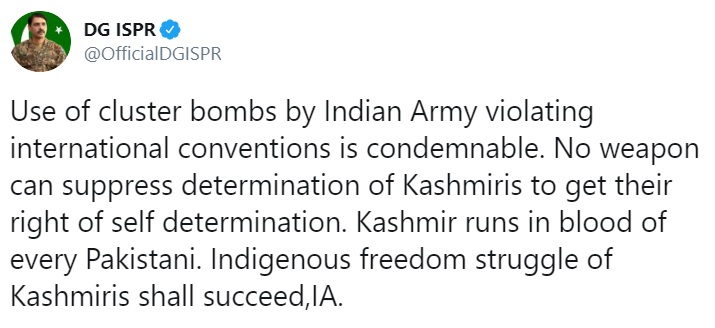 Recently, the Indian government warned of the threat of "terror" attacks in the occupied valley.
Using the threats as justification for deploying military in tension amid area, the Indian government stationed thousands of troops and displaying military power along the Himalayan border. The Indian government has admitted that 10,000 extra troops were sent to Occupied Kashmir a week ago, but recent reports on Friday revealed that further 25,000 are deployed in the region. The government has declined to reveal the number of new enforcements.