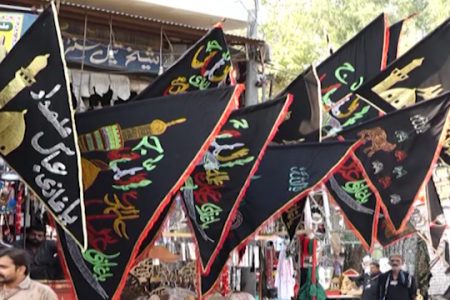 Karachi: At least four people died on Saturday during a Muharram procession in the area of Gulistan-e-Jauhar when an alam (flag) hit the overhead electric wires.
The mishap occurred in the neighborhood of Gulistan-e-Jauhar area, Bhittaiabad, where an alam (flag) that was being prepared for a 7th Muharram procession, collided with the live electricity wires, resulting in the loss of four lives, leaving two injured.
The injured were immediately taken to a nearby private hospital situated in Gulistan-e-Jauhar. According to police, the injured were in critical condition.
Three of the deceased were identified as Ali, Ali Abbas and Soni Magsi.
The victims were residents of Bhitaiabad and Dhani Bux Goth.
The participants of the procession and area residents said that the procession started from Asgharia Imambargah in Bhittaiabad, during which, the alam made of iron, accidentally bumped into the electric wires.
The organisers and the area residents alleged that the incident happened due to the carelessness of the K-Electric (KE), saying naked electric wires have not been replaced with covered cables. They also claimed that rescue efforts were brought about by the participants of the procession themselves.
Entitling the incident tragic, a K-Electric spokesperson said that the wires were installed according to certain rules and regulations. According to him, the team of K-electric was present at the site and was in-touch with the organizers.
Expressing sorrow over the unfortunate accident, he also appealed to the citizens to take precautionary measures during Muharram processions.