A 74-year-old woman, recognized as Erramatti Mangayamma Yaramati, from the southern Indian state of Andhra Pradesh is thought to have become the world's oldest mother to give birth to twin girls after menopause.
Doctors delivered the twins, who were born following in-vitro fertilization (IVF) treatment, on Thursday. The babies were delivered prematurely by caesarean section and weighed 1.6kg each.
"The mother and the babies are doing well", the woman's doctor, told BBC Telugu.
"I am so glad. God has finally answered our prayers after 54 years." Mangayamma said. "I cannot express my feeling in words. These babies complete me. My six decade-long wait has finally come to an end. Now, no one call me infertile anymore", she added.
Mangayamma revealed that she and her husband, who is 82 years old, have always wanted children and had been trying to conceive throughout their marriage of 57 years but failed to do so. With no children, the couple felt stigmatized in their village.
"They would call me a childless lady," Ms Yaramati said.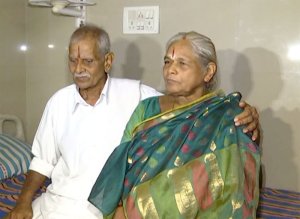 She said that she was inspired to try for a baby and approached the IVF experts after her 55-year-old neighbour gave birth through the treatment.
"I thought about (undergoing)… IVF procedure after a neighbour conceived at the age of 55", she told.
Mangayamma gave birth at the Ahalya IVF clinic under the guidance of Dr S Umashankar.
"We followed all rules," said Dr Sanakkayala Umasankar, the couple's IVF specialist.
Dr Umashankar said it came as a "surprise" when the patient approached him last November, but revealed he saw it as a "challenge".
With the plans chalked out, a team of doctors started preparing for the procedure and Mangayamma conceived in January after her first cycle of IVF.
She was kept in hospital throughout the pregnancy where a team of ten doctors monitored her health.
As her pregnancy progressed, scans revealed the presence of twins in her womb.
If her age is confirmed, Mangayamma will break the record held by Maria del Carmen Bousada de Lara, from El Puerto de Santa Maria, Spain, who gave birth after delivering twin boys via cesarean in 2006 at the age of 66.