Iraqi protesters moved on with furious anti-government protests for the fifth day on Saturday in the capital city, and across many provinces, setting fire to government offices. Security agencies shot 19 protestors fatally and wounded over 3 dozen in a sustained and fatal response that claimed over 80 lives since the uprising began.
A record of 94 casualties was compensated by the semi-official Iraqi High Commission for Human Rights, a parliamentary affiliate About 4,000 persons were wounded after Tuesday's rally for demanding employment, better power, water, and other facilities, and the end of injustice in the oil-rich country, mainly young demonstrations spontaneously organized.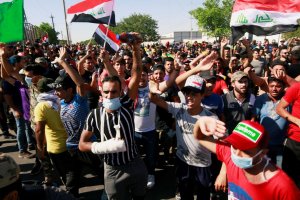 This violent impasse posed the most serious challenge to the conflicted nation since the defeat of the Islamic State group two years ago and deepened a country's political crisis that was still struggling with the legacy of multiple unfinished wars since the 2003 American invasion.
In the chaos, the office of three TV news outlets in Baghdad was stormed by masked gunmen. Black car gunmen wearing black clothes rushed to Al-Arabiya offices, the pan-Arab news channel owned by Saudi Arabia in Abu Nawas Street, beat employees and broke the equipment before escaping, Baghdad correspondent Majed Hamid said. Hamid said for several days the station had received threats.
According to station staff, Gunmen have targeted Iraqi private Dajla offices and NRT news channels.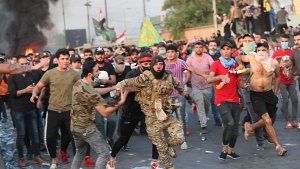 In the southern cities of Nasiriyah and Diwaniyah, thousands of protesters also took to the streets defying a curfew still in place there. A health official and human rights officer said at least one protester was killed as protesters marched to local government offices in Diwaniya. Details were not given.
Demonstrators torched three political parties and a legislature in the resilient region of Nasiriyah. Security forces responded with gunfire, but there was no immediate word on casualties, said the officials, who described the protest as "very large."
The office of Abdul Mahdi and Parliament Speaker Mohammed al-Halbusi called on members of the movement to negotiate with them in order to hear their requests. Al-Halbusi met a group of Iraqis and tribal leaders, mostly in their fifties and older, to address the myriad problems of the nation at a TV meeting in the Parliament. Al-Hablusi has consistently contributed to fighting poverty and unemployment.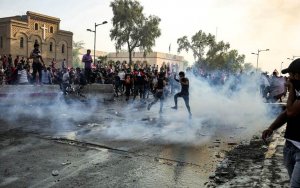 But the promise did nothing to stop the unfolding violence on the streets. The deadliest day was Friday, when 22 people were killed in Baghdad. Health officials said that many of the victims were wounded in the head and chest.