Acne itself is a curse. They also leave marks on the skin even after they're gone which can be just as annoying as if the pimples weren't bad enough.
Here's an overview of the different kinds of acne-caused scars and marks and a few product suggestions that can assist minimize them.
TYPES OF ACNE SCARS
The skin is marked differently from person to person after a pimple. But one thing is certain: the more with your fingers you pick up your pimples and scratch them, the more likely you are to have scars later on.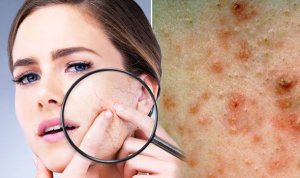 Depressed acne scars are the most prevalent, creating an indentation in the skin. They appear when the skin can not generate sufficient collagen to fill and repair the holes. This type of scarring affects most people and looks like ice pick marks, with ridges ranging from light to more pronounced.
Next, there are raised acne scars that are caused by the opposite of depressed scars: they result when excessive scar tissue is formed, making them thick and visible.
CAN YOU MAKE SCARS DISAPPEAR?
Unfortunately, scars cannot be treated. However, you can treat and diminish the post-inflammatory hyperpigmentation marks that appear after pimples are healed and which are often mistaken for acne scars. Usually, people with darker skin are more likely to develop these types of marks, but they can appear on any skin type.
PRODUCTS TO TRY
Clean & Clear Advantage Mark Treatment
This 2-in-1 product not only helps treat pimples, but it also helps to diminish the appearance of acne marks thanks to glycolic acid, which promotes skin cell renewal.
Skincare Oil from Bio-Oil
This famous oil is renowned for its multiple benefits: it helps diminish scars and stretch marks, among other things, by hydrating the skin and minimizing wrinkles. We love its ability to treat hyperpigmentation effectively!
Clinique Fresh Pressed 7-Day System
This product mobilizes the soothing and invigorating action of pure vitamin C, a powerful de-aging vitamin. The 7 single-use packets of powder cleanser provide a week-long flash treatment, which unifies the complexion and visibly increases the radiance of the skin.
NeoStrata Glycolic Renewal Smoothing Lotion
Suitable for all ages and all skin types, this exfoliating lotion invigorates the skin and evens the complexion by eliminating dead skin cells on the surface. In ten days, the skin will get a boost of radiance!
La Roche-Posay Anthelios Ultra-Fluid Lotion SPF 60
The non-oily and ultra-light texture of this product is ideal for sensitive skin with an oily tendency. Not only does it provide an excellent makeup base, but it leaves the skin clean, matte and effectively protected against UVA and UVB rays. What more could you ask for?