India's BJP-driven government overruled a 7 decades-old rule that gave the power of autonomy to the occupied and disputed Muslim-majority region of Kashmir.
The government, led by the Hindu nationalist Bharatiya Janata Party (BJP), also passed a bill by overruling Articles 370 and 35A, proposing the Jammu and Kashmir state be split into two union territories fully under the rules and power of New Delhi.
The Jammu and Kashmir union territory will include the Hindu-majority Jammu region and will have a legislative assembly.
The Buddhist-majority Ladakh region, which has a considerable population of Muslims, will also be a union territory, but it will not have an assembly.
All phones, internet services, and cable networks were cut off on Sunday night and pro-India leaders placed under house arrest amid escalating tensions following a massive stationing of troops.
What is Article 370?
Article 370 was the basis of Jammu and Kashmir's succession to the Indian union at a time when the former princely state had the choice to join either India or Pakistan both sides got freedom from the British rule in 1947.
The article, which came into effect in 1949, excludes Jammu and Kashmir's state from the Indian constitution, giving it a separate autonomy.
The article allows the Indian occupied region to establish and impose its own laws in all matters excluding finance, defense, and foreign affairs.
It established a separate constitution and a separate flag, denying property rights in the region to the outsiders.
That means the residents of the occupied state live under different laws from the rest of the country in matters such as property ownership and citizenship.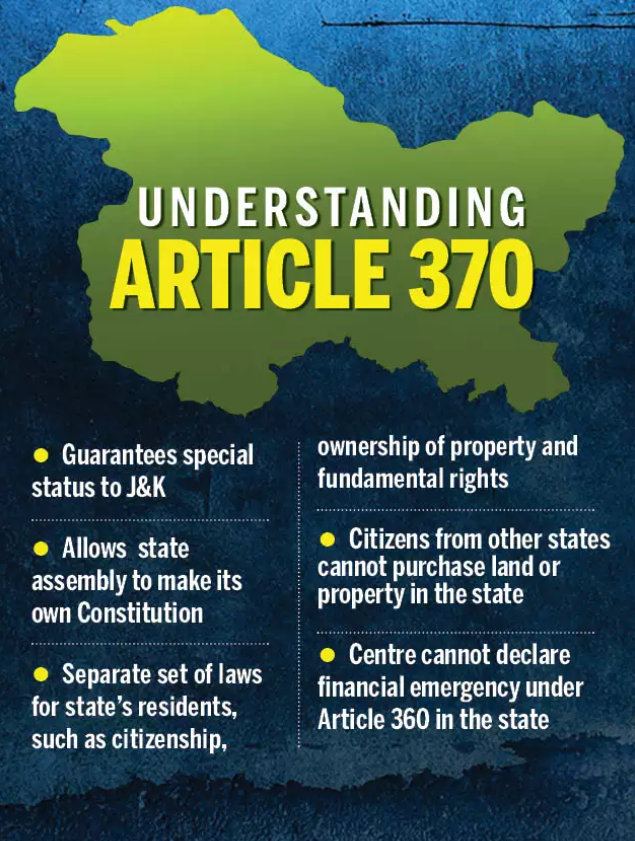 What is Article 35A?
Article 35A was passed after a presidential order in 1954 to continue the old postulates under Article 370.
The article allows the local legislature in Indian occupied Kashmir to define permanent residents of the region.
It refrains outsiders from permanently settling, holding land's ownership, positioning local government jobs or attaining educational scholarships in the region.
The article, referred to as the Permanent Residents Law, also exclude female residents of Jammu and Kashmir to attain property rights if they marry a person from outside the state, the implication also imposes on such women's children.
While Article 35A has remained unchanged, some aspects of Article 370 have been blurred with the passage of time.