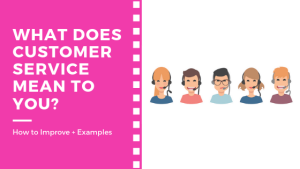 Did You Know?
"89% of companies now expect to compete mostly on the basis of customer experience." –Gartner Research
Customer service begins as soon as the person decides to make a purchase – then looks at your available products/services, chooses the desired one, makes a purchase and leaves the store.
But the job isn't done yet; customer service means the experience you provide your customers before and after doing business with them.
'Customer comes first' is not just a saying, successful business actually implement this strategy across all employees which results in customer retention.
Why Is It Important?
Customer service has a huge impact on your business – it is cheaper to retain your existing customers than to find new ones. In fact, acquiring customers can cost up to 7 times more!
Did you know? Bad customer experience is the key factor of churn.
According to the Small Business Administration U.S, 68% of customers are reported to leave due to the poor treatment they received from the support staff.
a. Customer service Makes or Breaks Your Reputation
82% of Business Owners reported that customers' expectations with their company have risen much higher in the past 3 years.
To make things even more dangerous is the fast sharing of negative experience via online platforms, where they can easily reach a huge number of audiences too. Imagine how many of them could be your potential customers!
Which is why your availability is much more important than ever on popular social networking platforms to support them and prove your strong customer support skills and mechanism.
b. Customers Would Pay More To Have Better Experience
According to a survey on customer experience, 86% of customers would pay more to have a better customer experience.
If you have customers that are willing to pay more, you can tier that bunch of premium customers and provide experience to them on the premium level, for instance, priority support, early access to benefits, offers and features (just like a movie premiere for the celebrities, they are your celebrity customers too).
Great Customer Service Examples
Next time anybody asks you; what does customer service mean to you? Give them the following examples:
1.  None Other Than, Amazon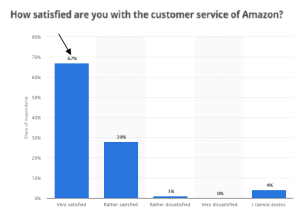 (source: Statista)
With over 310 million active Amazon users, CEO Jeff Bezos took a pledge to provide never seen before, customer service mechanism.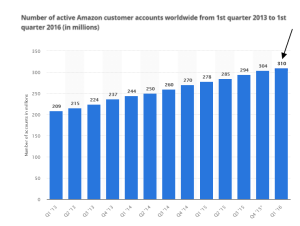 (source: Statista)
Have you heard about an organization as huge as Amazon who's CEO himself looks at customer support emails?
The service is popularly known as Bezos Question Mark. Jeff Bezos looks after a personal email that he has provided to Amazon customers (which is [email protected], in case you were wondering) and encouraged them to reach him out directly in case they want to report/acquire about any of Amazon's product/service quality related issues.
Any customer can write to him if they believe the support team didn't cater to them correctly.
Bezos told Business Insider that he checks each email himself and when he spots the ones with a potential problem he then forwards that email to the support department or to an executive, directly.
What got a lot of speculations was Bezos famous "one question mark" which is the only addition he does to his emails forwarded to the service team.
As soon as the single question mark email is received, the manager/ manager's manager or the entire team drop everything they are working on and tends to this email first.
2.  The Well Deserving, Netflix
If you visit their help page, you can easily see what I am talking about!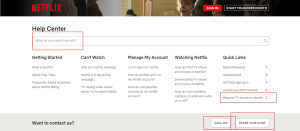 From getting in touch with live chat support to calling a support representative to request your favorite content or require help with something that isn't there, the website has everything a customer would probably ask about.
I like how they have put everything in one place so that users can choose their desired and appropriate option to choose from.
Netflix knows how to stay in the game, thus provides '1 minute response time' to its customers for both, call and chat supports.
>>> Story Time!
About a month ago, I was watching Friends on Netflix for Web and suddenly the episodes went unavailable, I tried for next 24 hours and still, no episodes were playing (my bill is always paid just, FYI).
So, I decided to go for the Live Chat Support on their help center, I was surprised to see the response time was indeed less than a minute. The agent successfully fixed the problem and I was able to resume my streaming!
The End. <<<
Since Netflix is solely online based, exceptional customer service is of absolute necessity for them.
Mainly because the company is aware of the consequences of being unable to resolve customer issues or providing them a quality service; there are tons of streaming services customers can easily switch to!
So if you are in search of the answer to "What does customer service mean to you?" Netflix would be self-explanatory for you.
How to Improve Your Customer Service?
1. Customer Service is a Team Sport
Understand the fact that customer service is to be treated as a team sport and you will never attain perfection at it.
Unlike Sales, Administration, Marketing and Human Resources, Customer Service can never be complaint-free. You will continue to receive issues every single day and the best way to keep a hold of them is by maintaining the department-wide open communication policies.
2. Train Your Agents
What's the point of creating a mind-blowing help desk solution for your customers when none of your service representatives knows how to use it properly and get the full advantages of the software.
Forwarding high-level technicality issues to product experts is the right approach but train each and every customer support representative with your help desk.
For example, if you are using a chatbot for your website, make sure each one of your customer support team member knows how to extract data from it, how to handle technical issues with it and in general keep an eye on how it is running.
3. Listen to The Customer
This one you may have already heard of but, there is nothing better for a customer to talk to a support agent that really listens.
Always take your time to carefully listen to the customer and figure out how it is affecting them. Customers tend to stay loyal to brands that value their needs beyond providing quality product/service.
4. Encourage Agents to Ask
Companies should encourage their support agents to ask questions for the sake of clarity when interacting with customers. The best way to resolve an issue is by completely understanding the issue rather than jumping to grab your tool kit and fix it.
5. Share What Customers Suggest
Did you know?
Your customers can be an asset to your company as well as your product too. When sharing their feedback, sometimes customers can bring great ideas out of customer request/curiosities and 'what ifs'.
6. Improve Customer Experience As They Want
Set up a system that takes customer feedback at the end of each customer-agent interaction. Make a quick quality survey that can be filled within a minute or two.
This feedback will help you improve your service quality as well as keep a track of customer's expectations from your brand.
Botsify also provides conversational forms for your support chat. You can create Survey forms by adding quick buttons as well. Impress your customers by providing them a no-typing feedback form
7. Each Second Matters
Customers hate one thing the most – waiting.
Never in the history of business and customer interaction do customers liked long response time. A quick and problem resolving response not only retains customers but builds brand trust and confidence in the quality in your service.
So, what customer service means to you? Were you able to relate to the ones described above or noticed some major differences?
Read the full article "what does customer service mean to you & how to make it great?" here.