Ever wondered what is so special about Russian S-400 that makes it almost irresistible for every other country? The system is super advanced and no Airforce wants to face it. Here is what makes it so lethal.
First thing first, S-400 SAM is called "Triumf" in Russia and NATO calls it the SA-21 "Growler."S-400 is an upgrade of previous anti-aircraft weapon system S-30 or S-300 PMU-3.It is the most capable and most dangerous surface-to-air threat for any Air force. It's been used in Syria and coalition airpower knows this robotic enemy really well. The S-400 uses four missiles at a time to fill its performance envelope. Range of the system varies: the very-long-range 40N6 (400 km), the long-range 48N6 (250 km), the medium-range 9M96E2 (120 km) and the short-range 9M96E (40 km).
S-400 was developed by the Almaz Antey Central Design Bureau and it was added in the Russian defense system in 2007. The missile can chase and destroy an airborne target as far as 250 miles away. In the map shown below, the first circle marks the range of S-400 from Hmeymim Air Base near Latakia, Syria. Russia installed the system in Syria to counter not only militants but also to restrain USA and coalition from attacking Syria.
A regular S-400 battalion consists of at least eight launchers with 32 missiles and a mobile command post.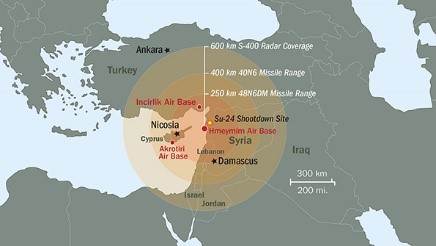 Deployment and sale
Russia deployed S-400 anti-aircraft missile system in Syria in November 2015. Later Belarus requested two battalions of the system that Russia approved. In June 2016, two units of S-400 were handed over to Belarus, free of charge.
China received and tested the missiles in August 2018. Turkey requested to buy the system worth $US 2.5 billion and was approved. The USA has raised concern over Turkey's purchase meanwhile the delivery is in process. Saud Arabia, India, Iran, South Korea, Egypt, Iraq, and Qatar also showed interest in purchasing the S-400 defense system.