North Korea has launched two unidentified "projectiles" into the sea, the South Korean military claims.
According to Japan's Defence Ministry, the projectiles "appeared to be ballistic missiles".
Thursday's projectiles were fired into the East Sea, also known as the Sea of Japan. The launches are thought to have come from South Pyongan province, according to Seoul's Joint Chiefs of Staff.
North Korea is widely believed to have missiles capable of striking long-range targets, including the US mainland. It also claims to have a nuclear bomb it can mount it on a missile.
The apparent testing comes as nuclear talks between Pyongyang and Washington remain in a deadlock since US President Donald Trump and North Korean leader Kim Jong Un met at the heavily-guarded Demilitarized Zone between the North and South Koreas in June, with the intention to discuss North Korea's nuclear and ballistic missile programmes.
It is the North's 12th such threatening launch this year. Earlier this month, North Korea test-fired a new type of missile which is thought to be a submarine-launched ballistic missile (SLBM).
A submarine-launched ballistic missile (SLBM) is a ballistic missile capable of being launched from submarines. Modern variants usually deliver multiple independently targetable reentry vehicles (MIRVs) each of which carries a nuclear warhead and allows a single launched missile to strike several targets like a cluster bomb.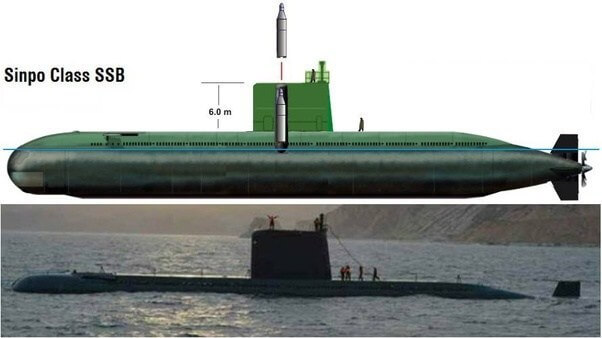 The Sinpo class submarine also called the Gorae ("whale") or Pongdae class, is a new class of submarine, capable of launching such ballistic missiles while staying underwater, produced in North Korea. It is the largest submarine designed and built for the Korean People's Navy.