In a demonstration against the recent extradition law proposed by China, millions joined hands to save guard their right. Hong Kong is the autonomous city that enjoyed its sovereignty ever since Britain left it. But in 2047 the agreement that handed over Hong Kong to Main Land China will expire and it makes the city's future unpredictable. China has the Governing authority over Hong Kong, Taiwan, and Uyghur under its "One country, two systems" policy. China made it clear in its 13th five-year plan, that it will exercise a strong hold on Taiwan, Hong Kong, and Uyghur. Taiwan is struggling to win the status of an independent state. Military threats have boon exchanged between both the powers. China has built concentration camps in the name of encountering Islam radicalization. And in Hong Kong, China tried to trade Extradition bill with Chief executive Carrie Lam Cheng Yuet-Ngor, who happens to be the most senior principle official of Hong Kong city. The bill will allow China to arrest or abduct activists or citizens and deliver them to mainland China, without any legal protest from the Hong Kong Government.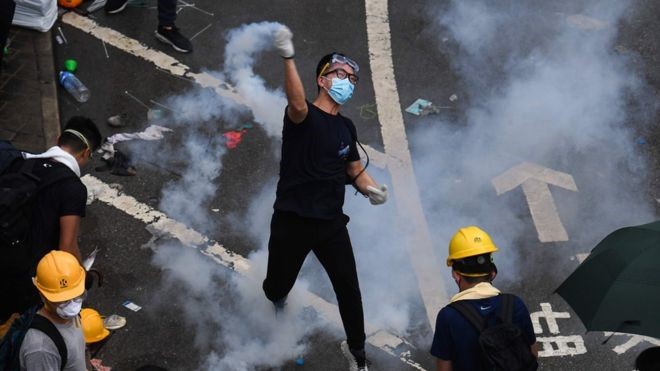 Back in 2000, Hong Kong had registered voters aged 18-35 (58% of the population) that rose 70% by 2016. Feeling oppressed and uncertain for their future, young people (aged 17-23) are on the roads (some against the will of their parents), bearing pallets, tear gas, and shelling.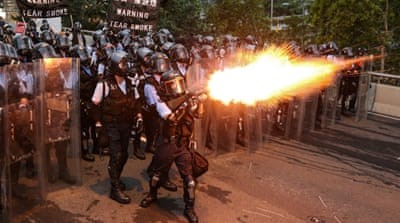 Hong Kong police have used teargas, beanbag rounds and pepper spray against protesters this week [Athit Perawongmetha/Reuters]
Although the rallies and riots are the worst of the last two decades, protestors, especially students are keeping their identities concealed. BBC reporters contacted many protestors who insisted on not to disclose their identities or faces.  Many students are sleeping and staying in the campus so the campus will not expel them for participating in the rallies. Once the dust is settled, the Hong Kong Government will take charge and there will be a long list of detentions, fines, and punishments. Disclosure of identities put the career of many at stake. Dozens of people including 12 policemen were injured so far. Police wear the protection gear even during the press conference with media. Protestors are calling on Carrie Lam to resign.
Although people are on roads for days and anger and suspicions are at peak, international media reported the act of discipline and courtesy from the citizens. Viral video of the crowd parting for ambulance attracted more attention than the protest itself.