Relatives of a Boeing 737 Max crash victim went to the FAA to demand answers for lapses that cost 346 people their lives.
Samya Stumo was 24 years old, starting her career by pursuing her "dream job" at a Washington, DC-based NGO and heading to Nairobi, and then onward to Uganda for work when the Boeing 737 Max she was on-board crashed into the ground six minutes after taking off.
The crash of Ethiopian Airlines' flight ET-302 in March was the second fatal accident of a 737 Max in the time frame of five months, killing all 157 people on board. A near-identical aircraft, operated by the Indonesian Lion Air, crashed in the sea shortly after takeoff from Jakarta in October 2018 in which All 189 passengers and crew members died.
Stumo was among the 157 killed on-board Ethiopian Airlines flight 302 in March when the Boeing 737 Max crashed due to a flaw in the aircraft's anti-stall system.
Now, Stumo's family is protesting and demanding accountability.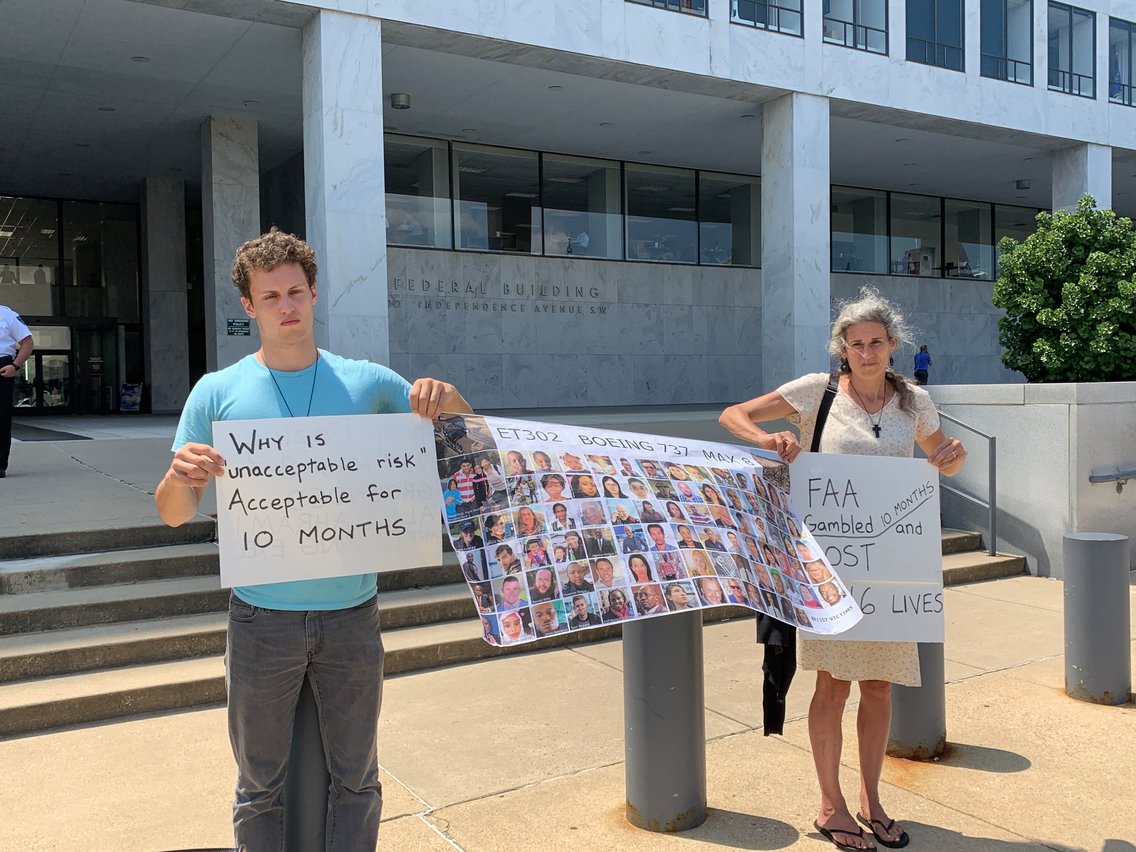 They're among the dozens of victims' families that have filed cases against Boeing for the faulty design that led to both fatal crashes and the Federal Aviation Administration (FAA). Especially, families of victims from the second crash have said that they believe, based on what was known at the time, that the aircraft should have been grounded after the first crash.
On Thursday, Stumo's mother, Nadia Milleron, and her brother Tor Stumo held a session in front of the FAA's main building in Washington, DC, in response to Senate testimony given by FAA officials a day earlier, including Associate Administrator of Aviation Safety Ali Bahrami.
On Wednesday, Bahrami defended the FAA's system of backing plane makers like Boeing broad oversight of their own work, rather than the unbiased inspection.
However, Bahrami also admitted that the FAA had underestimated the risk of a second crash, which happened just 5 months after the first crash.
Internal FAA analysis, done just days after the crash, predicting the similar emergency incident was likely within the next 10 months, due to the fault in the Plane's anti-stall system, known as Maneuvering Characteristics Augmentation System, MCAS.
Instead of grounding the plane, the FAA issued an emergency order directing pilots to review the existing procedures while Boeing fixed the MCAS system. But within the five months, another 737 Max crashed.
The FAA also allowed Boeing to begin working on a software fix to prevent the problem from occurring again without passing orders to ground the plane until the fault is being solved, and kept this confidential.
"The implication was that this pilot change would be sufficient to provide airworthiness; there was no real mention of improvements and necessary changes to the MCAS system, leading I think most people to conclude that there was no long-term issue with the MCAS," Senator Jack Reed (D-RI) said to Bahrami at the hearing. "That lack of transparency I think is not appropriate."
The confidential permission on the long-term fix and the assessment that it would be necessary were revealed in a Wall Street Journal report this week.
After going through The Wall Street Journal's report, Samya's mother and brother — decided to drive from their home in Sheffield, Massachusetts, to protest in front of the FAA's offices.
"After the Lion Air crash, they knew that there was a risk for another crash to occur," Tor Stumo told Business Insider in a phone call from the demonstration. "They took interim measures."
"You have pilots given a stopgap measure for something already deemed an 'unacceptable risk.'" said Stumo. He said that the stopgap measure was inadequate and that the plane should have been grounded.
"I hope anyone complicit in this bungled certification of this airplane resigns, and I hope that, if they did something criminal, they go to jail. It's not fair that she's dead," Stumo mentioned his sister.
Samya Stumo's family hopes they can find justice, but more importantly, the failures that led to the two 737 Max crashes are never repeated.
"We don't want to be here. We want to be at home. We want to be crying and holding each other. But we can't stand by. We have to come here, and make sure that there can never be a third crash." Stumo said.