The latest action movie 'War' released on Oct 2 starring Hrithik Roshan & Tiger Shroff has made a landmark start, but the most amazing part is that it holds the momentum going.
The YRF movie, which was produced on a huge budget, trended extremely well over the extended weekend and generated 160 crores plus business It's a very good trend even now in the weekdays and it has crossed 200 crores mark in just 7 days thanks to the Dussehra boost.
On Monday, War earned 20.60 crores in the Hindi version and 21.50 crores in the whole of India. It's done better now on Tuesday. The film earned 26-28 crores on Tuesday and 1-1.25 crores more in Tamil & Telugu, according to the early trends.
The sum of the All India 7 day War, therefore, falls in an amazing range of approx. 214-217 crores. From here, a lifetime of 300 crores seems like a cakewalk and we just have to see how far the film goes.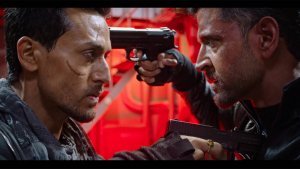 Meanwhile, filmmaker Rakesh Roshan praised his son Hrithik Roshan and Tiger Shroffs, claiming they did very well in War. He is also delighted that the Hindi film industry has made an action-thriller film that matches Hollywood movies.
Rakesh Roshan interacted with the press on Monday in Mumbai at North Bombay Sarbojanin Durga Puja where he and his son Hrithik Roshan came.